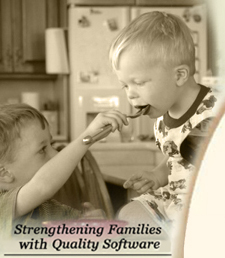 Cook'n with Betty Crocker

$29.95




Cook'n Software Download

$79.95


I bought this rice cooker for almost a year now, and use it everyday, and never have a problem with it at all. With this price I must say that it is a very wonderful rice cooker. I love the fact that it's nonstick. The rice I cooked never get burn out nor stick to the pot, and it is easy to clean, all you have to do is putting a bit of warm water and wipe it off.



• Current Issue

• Newsletter Archive
• Contact Info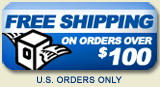 DAILY SPECIAL
Order today and receive a 10% Off All Orders of Cook'n!
Find out how.
Oster 10 Cup Rice Cooker
Perfect rice every time!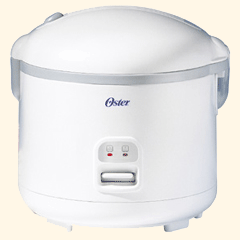 Oster Rice Cooker
---
List Price: $60.00
Your Price: $49.95
You Save: $10

---
Availability: Usually ships in 1-2 business days.
FREE Cook'n Chinese
recipe organizer
with Purchase

With over 130 delicous recipes
and photos from Betty Crocker's
New Chinese Cookbook, plus the
ability to organize your own personal
recipes.
Limited-time offer.
FEATURES
---
10 Cup capacity, 20 servings

Automatic 12-hour keep warm feature with indicator light

Added cooking versatility with steaming tray

Clean up is easy with removable, dishwasher-safe, non-stick pot and steaming tray

Includes measuring cup and rice paddle with paddle holder

Food cooks securely with the air tight, sealed, Cool-TouchTM lid

Worry free with automatic shut-off

---
The Oster Rice Cooker lets you make perfect rice every time with easy cleanup. The pre-set thermostat and automatic switching from cooking to keeping warm lets you cook your rice without having to worry about scorched or dry rice.

A color-coded indicator light shows whether you are cooking or keeping the rice warm. The cooker can also be used as a food steamer or egg cooker.

Accessories included with the rice cooker are a measuring cup, spatula, steamer insert, and condensation collector.

The rice cooker has chrome sides and safe-to-touch handles.



| | |
| --- | --- |
| The Oster Rice Cooker lets you make perfect rice every time with easy cleanup. The pre-set thermostat and automatic switching from cooking to keeping warm lets you cook your rice without having to worry about scorched or dry rice. A color-coded indicator light shows whether you are cooking or keeping the rice warm. The cooker can also be used as a food steamer or egg cooker. Accessories included with the rice cooker are a measuring cup, spatula, steamer insert, and condensation collector. The rice cooker has chrome sides and safe-to-touch handles. | Get perfect rice and veggies every time with this Salton 3 cup Rice Cooker. The pre-set thermostat and automatic switching from cooking to keeping warm lets you cook your rice without having to worry about scorched or dry rice. Accessories included with the rice cooker are a measuring cup, spatula, and a separate wire rack for steaming seafood and vegetables. The handles stay cool so you can easily move the cooker to the table for serving. |
---
Customers who bought this item also enjoy: