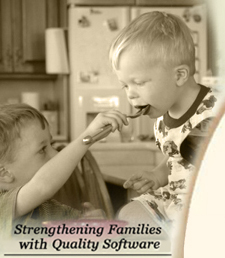 Slice almost any Food!
Safely make Deli meats with this food slicer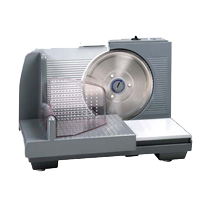 Food Slicer
by Toastmaster
---
List Price: $85.00
Your Price:$79.95
You Save: $5

---
Availability: Usually ships in one business day
FREE CD with purchase

Contains over 365
recipes from

Weber's Big Book
of Grilling
cookbook...
Limited-time offer.
FEATURES
---
90-watt Slicer with Safety Features
Easy to clean
Countertop Size
Adjustable for thickness
Cast Aluminum
Free Cook'n with Weber CD!!!
---
The Toastmaster Food Slicer / Meat Slicer is a great addition to any kitchen. The Food Slicer has many features for its price range including 6 1/2 Soligen stainless steel blade, thick-to-thin adjustable slicing and food pusher for added safety. Includes a Food Collection Tray!


---
Adjustable for slicing cheese, sandwich meats, roast beef, bacon, bread, and vegetables like tomatoes and zucchini from wafer-thin to extra-thick, this compact, 90-watt electric appliance makes it possible to slice unlimited quantities of food quickly, safely, and uniformly. For safety, the slicer requires two hands to operate, one pushing food into the 6-1/2-inch stainless-steel blade by means of a sliding platform and the other continuously pressing a button so the blade operates. The sliding platform has a guard to prevent hands from getting close to the blade and a rail for grasping and pushing. A transparent plastic food press attaches to the feeder's rail with a hook. Grasping that hook and the rail simultaneously allows one-hand operation while also pressing food toward the blade. The food press's face is covered with points that grip food securely.
---
Customers who bought this item also enjoy: