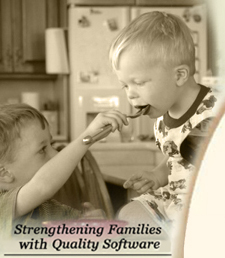 Toastmaster Chopster: ULTIMATE chopper
A SAFE and DURABLE way to chop!!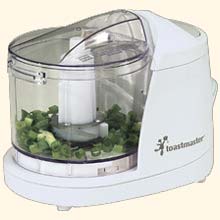 Toastmaster Food Chopper
---
List Price: $19.95
Your Price: $11.95
You Save: $8

---
Availability: Usually ships in 1-2 business days.
FEATURES
---
Durable dishwasher-safe bowl, lid and blade

Removable stainless steel blades

Push button operation

Large 1 1/2 cup capacity

Safety lock-in lid

Skid-resistant rubber feet

---
The best and safest way to chop your food!


---

The Toastmaster Chopster Mini Food Chopper is a great way to prepare your food. This Food Chopper is compact, so you can easily store it anywhere or take it with you.

The Toastmaster Food Chopper is made of stainless steel blades that can easily be removed, which makes this food chopper easy to clean.


The Toastmaster Food Chopper also has a 1 1/2 cup capacity. The Toastmaster Chopster: the ULTIMATE food chopper can handle anything from soft nuts, like pecans and walnuts, to hard cheese such as Romano and Parmesan.

This Food Chopper is also a great way to make a yummy meal for the little one in your family. Instead of buying the sometimes non-eatible baby foods, you can create your own tasty, smooth, easy to digest meal for a baby.

Order today and start chopping your way to a well balanced meal!!
---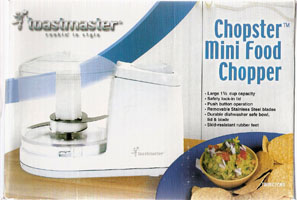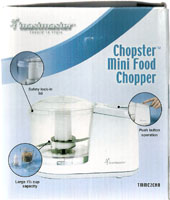 ---
Customers who bought this item also enjoy: