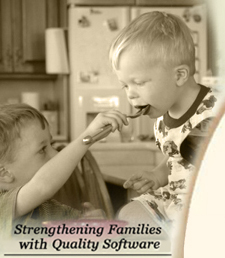 Oster Electric Skillet
Electric Versatility Skillet!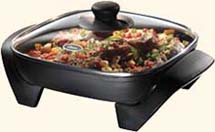 Oster Electric Skillet
---
List Price: $61.90
Your Price: $39.95
You Save: $21.95

---
Availability: Usually ships in 1-2 business days.
FREE CD with purchase

Get 120 Betty Crocker recipes
with over 50 photos. All of this
included in this recipe organizer
if you order today.
FEATURES
---
Large and small dishes accommodated with 12-inch non-stick frying pan

Variable temperature designed for all types of cooking

Safe and convenient Cool-touch handles

Easy clean,
dishwasher safe components

Lift feature drains unwanted fat and oil

---

Electric Skillet (model 3001)
This large 11 inch capacity non-stick frying pan does the work of many appliances. Oster made this Electric Skillet especially for quick and simple cooking. This skillet is ideal for cooking almost any meal. It works great for meats, noodles, rice, chili, stroganoff, stirfry, and much more.


This skillet has many special features, some of which are the steam vent for added temperature control, it is dishwasher safe, and contains a lift feature that drains unwanted fats and oils. The Oster Electric Skillet model 3001, allows you to stew, bake, roast, and fry in no time at all. Free up that extra burner on your stove and order today.
---
Customers who bought this item also enjoy: