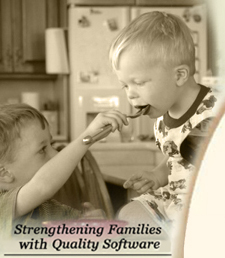 Cook'n with Betty Crocker

$29.95




Cook'n Software Download

$79.95


After 4 years of unimpressive service, our Black and Decker Toast-r-Oven finally died (yes!!!). Our old oven always took much longer to cook than what instructions said it should. The Avante convection oven is taking some getting used to. Items do cook muck more quickly. Though some items took half the time to cook compared to our old oven, food was still cooked thoroughly to the center. The larger capacity and top warmer are also much appreciated. Toast also turns out nicely. The convection blower does not engage when toasting.



• Current Issue

• Newsletter Archive
• Contact Info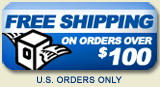 DAILY SPECIAL
Order today and receive a 10% Off All Orders of Cook'n!
Find out how.
Convection Oven
T-FAL Avante Elite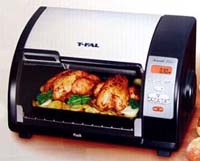 Convection Oven
---
List Price: $174.94
Your Price: $99.95
You Save: $75

---
Availability: Usually ships in 1-2 business days.
FREE CD with purchase

Cook'n Healthy & Hearty
contains over 400 of
Betty Crocker's Best of
Healthy & Hearty
Cooking cookbook.
Limited-time offer.
FEATURES
---
Convection Toaster Oven Model T8080

Easy to use Digital Controls

Convection Function up to 30% faster than standard ovens

Easy to clean

Cook Entire Meals

---

The T-FAL Avante Elite Convection Toaster Oven is T-Fal's unique best selling slanted design. The Digital LCD screen gives you the control to get fantastic cooking results everytime. The T-Fal Convection Toaster Oven gives you a 6-slice capacity, fits an 11" oven dish, in this compact design. Electronic browning control (9 settings) for consistent toasting slice after slice.


The Convection Toaster Oven function results in even, consistent cooking results (up to 30% faster than standard ovens). The T-Fal Convection Toaster Oven features programmable, digital control panel with permanent clock, to warm, toast, broil and bake. This Convection Toaster Oven is an impressive oven that includes a separate keep warm compartment.

Cleanup in the T-Fal Convection Toaster Oven is easy with front access, CD-style crumb tray for maximum cleaning convenience. Safe-to-touch exterior walls for advanced safety. Self cleaning interior walls add to the ease of cleaning

---
Customers who bought this item also enjoy: