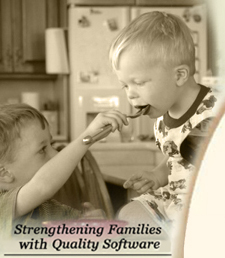 Cook'n with Betty Crocker

$29.95




Cook'n Software Download

$79.95


I had the forerunner of this model for 6 years and had no complaints. The person who bought it for me 6 years ago bought a new one for me this Christmas, assuming I was ready for a new one. I'm certainly glad to have a new one and am also very happy with it, however, the old one still works just fine, after 6 years of heavy use. We make pizza dough, fruit breads, french bread, multigrain bread with it. It's great to set the timer and wake up to the smell of fresh bread or make the dough in the machine and bake it in the oven to make real bakery bread.



• Current Issue

• Newsletter Archive
• Contact Info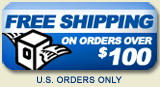 DAILY SPECIAL
Order today and receive a 10% Off All Orders of Cook'n!
Find out how.
Oster Breadmaker
The Best thing since Sliced Bread, Making Homemade Bread just got a whole lot Easier!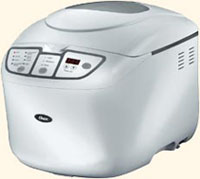 Oster Breadmaker
---
List Price: $145.95
Your Price: $74.95
You Save: $71

---
Availability: Usually ships in 1-2 business days.
FREE CD with purchase

Order today and receive a
FREE CD
with 130 recipes
from Betty Crocker's Best
Bread Machine Cookbook.
Limited-time offer.
FEATURES
---
58 minute ExpressBake Breadmaker
Homemade Bread In less than 1 hour, That's Amazing!
Makes 1 lb, 1 1/2 lb, and 2 lb family size loafs
13 hour delay bake timer for fresh bread anytime
18 Bread Settings, for breads, dough and jams
Pick your favorite crust color 3 different crust color selections
---

Enjoy the old-fashioned aroma and goodness of home-baked bread made the fun and easy new-fashioned way - using the Oster Bread Machine and the new Cook'n with Bread Machines CD! There is no better way of sharing love than with freshly baked bread.

The Oster Breadmaker is very easy-to-use. And, with the 13-hour delay timer, you can wake up in the morning or come home from work to a loaf of fresh baked bread.


The Oster Breadmaker has a 3-step programming option for easy operation and 3 crust-color selections, light, medium, or dark.
Measurements being 14-1/2 by 10 by 13-1/2 inches.
Includes 18 different bread settings.
HomeMade Bread without all the Preservatives, now that is Wonderful!!
---
Customers who bought this item also enjoy: