Champ HP3 Blender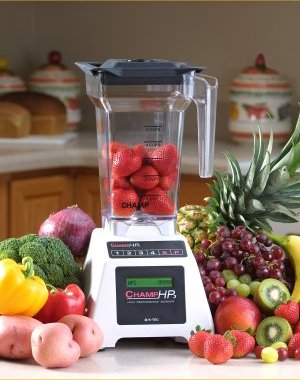 K-TEC/Blendtec, the world leader in commercial blenders proudly introduces the CHAMP HP3, the only computerized home blender engineered for Healthy Living!

Blendtec is the innovative leader in the commercial blender market. This same engineering genius goes into our home use blender, the Champ HP3 blender. Computer controlled blend cycles make perfect drinks with one-touch operation. No old fashioned knobs, switches, or dials to wear out. Solid state electronics and sleek touchpad ensure long life and dependable performance. No other blender offers the power, ease of operation, and state of the art engineering. Half-gallon capacity GE LexanT (break resistant) jar is lightweight and easy to clean. Powerful 3-peak horsepower motor makes any blending chore a breeze. Complete 8 year warranty for home use on the machine and lifetime warranty on coupling and blade. - home use only.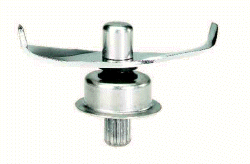 Blade wing-span of almost 4 inches!
More Power! 50% more power than other home blenders for fast, consistent blending.

More Convenience! One touch operation. Computer controlled blend cycles that make perfect drinks, soups and desserts every time. Recipe book included.

More Quiet! The advanced engineering design of the Champ HP3 Blender and jar makes it much less noisy than other blenders.

More Time Savings! The Champ HP3 Blender accomplishes in seconds what other blenders can't do in minutes.

More Space, Weight and Handling Efficiency! Small footprint, space-age materials, and state-of-the-art engineering combined with ergonomic design result in tremendous value for you.

More Reliability! No old fashioned knobs, switches or dials to wear out, break off or gather grime. 100% solid state electronics and sleek touchpad ensure long life and dependable performance.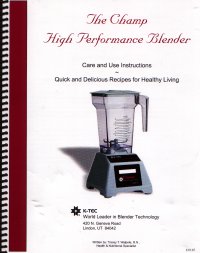 Each Champ HP3 Blender Comes with a $19.95 retail value 150+ page instruction and recipe book!

Specifications:


CSA Saftey Certified

NSF Health Certified

120 volts 50/60 hz

1500 watts 13 amps

Dimensions:
base - 7" wide 8" deep 6.5" tall with caraffe its 15.5" tall

3 peak horsepower

8 year/10,000 cycle warranty for household use

1 year/5,000 cycle warranty for commercial use

Lifetime warranty on motor coupling

Introduced in 1995, the Champ High Performance blender was introduced as the first blender on the market with a microprocessor chip. Pre-programmed blending cycles direct a powerful 3-peak horsepower motor to change speeds and times, automatically assuring perfect blending consistency. This technology launched K-TEC into the commercial blender industry. Today, the Blendtec family of commercial blenders can be seen at leading smoothie and coffee shops throughout the world.


Jamba Juice

Starbucks

Disneyland

and more!

No other blender manufacturer can make these claims...


The Most Powerful - 13 AMP motor! The largest in this industry for fast, thorough blending.

Longest Warranty - 8 year parts and labor. Lifetime warranty on the blade, coupling and keypad.

No Plunger Necessary - The automatic program fluctuate the speeds. This helps prevent the danger of pushing something into a spinning blade.

Dry-goods Capability - No need to purchase a separate container or blade to handle dry goods. Mill grains into excellent flours or even cereals.

Fits under standard cupboard - When it's more convenient, it's easier to use. Yet still holds over 1/2 gallon.

Electronic surge and thermal protection - State-of-the-art electronics ensures reliability and durability.

Limited-Time Offer--Expires December 15
30-Day Money-Back Guarantee--Try it for FREE!
Affordable Health Care--Only 12 cents per day for the term of the warranty

- Our Price $399.99
- Retail Price $599.99
You Save $200.00 (40%)


### Due to problems with our supplier, we are not able to offer the blenders at this time. We apologize for the inconvenience.###


Note: Included with the Champ HP3 blender is a rather complicated looking chart that shows 30 various programs that are available. While this is a great feature, we find that using the 5 keys (1,2,3,4,5 or S and P) are enough for most people, and unless your a techno-gadget person, the complicated chart can just be filed away...

Frequently Asked Questions:

How does the champ hp3 blender operate since it does not have any knobs and only 5 buttons to control speed?
This blender has five touch buttons that control the time and speed of the blending process, please see below for the details.

Buttons 1, 2, 3, and 4 on the touchpad are pre-programmed cycles. The cycles will start with the press of a button and will stop automatically when the cycle is complete.

Button 5 or S is a speed key: This button is unique because it allows you to set the speed to your own desired setting. To set the speed, simply hold the 5 button down for a number of seconds. The Green LED display will reflect the speed setting (1 through 10) on the left side. When you release the button, the motor will remain at the speed selected for 50 seconds unless you touch the button again to terminate the cycle.

Button 1: Blends soft items such as ice creams and shakes. It runs for 27 seconds at a low speed. This setting is ideal for soft fruits such as grapes, peaches and oranges.

Button 2: Great granita and margarita cycle. Good for ice cubes, fruit syrups or concentrates. This is a short cycle at only 14 seconds varying between low and high speeds. Great for soft fruits.

Button 3: This is the most frequently used speed of all. This button provides a robust cycle for more difficult "smoothies" or frozen fruit and ice. The cycle runs 23 seconds. This cycle handles firmer fruits such as apples, pineapple with the core, watermelon with the seeds, etc.

Button 4: This cycle is for frozen fruits and hard vegetables. This cycle fluctuates between lower and higher speeds to pull thicker materials into the blade. It is an excellent cycle for carrots, broccoli and hard materials such as whole wheat and rice.

Button 5: The Speed Key. This key is used when one wishes to control the cycle. In this mode, the motor will run as long as 50 seconds and whatever speed you select up to 10 (28,000RPM plus).

Button P: The Pulse button provides one with the ability to chop foods or make chunky salsa's by controlling the blade. The motor runs only while the "P" button is held down.

Why does the blender blade spin but the ingredients do not blend?
You are experiencing cavitation. This is the result of too much cold within the blender. Increase the amount of liquid and/or decrease the amount of ice or frozen items and the ingredients will blend. Whenever you experience cavitation, do not rock the blender. Stop the blender, add small amount of liquid, then re-blend.

Will the HP3 blender blend vegetables and fruits into drinkable liquids?
Yes. The Champ HP3 is not an extractor, so you may need to add liquid or ice to reach the consistency you desire.

Can I make hot soup in my blender?
Yes, if you are willing to run the blender for 3-4 minutes to allow the friction inside the jar to create heat. Not the most efficient use of energy. A better method is to add boiling water to the jar, blend, then serve or blend and then heat in the microwave in a suitable container.

Why does my blender stop before the ingredients are completely blended?
Your blender has pre-programmed cycles that are timed. Select a higher button for longer blend cycles.

Will the HP3 blender Grind flax seeds and make nut butters?
Yes, the HP3 blender will grind flax seeds into powder. It will grind raw almonds into a powder. If a "butter" consistency is required, you may have to add additional oil to the powder. (note: most raw nuts have a low oil content, that prevents them from making a butter) I have successfully made raw brazil nut butter into a "store bought" consistency without adding oil. Also roasted peanuts should work ok.

Whats the difference between the ez Blender by blendtec and the Champ HP3 blender by k-tec?
According to my sources, they are the same machine. The Champ HP3 model is being sold to the home market, while the ez Blender is being sold to commercial users.



- Our Price $399.99
- Retail Price $599.99
You Save $200.00 (40%)


discountinued