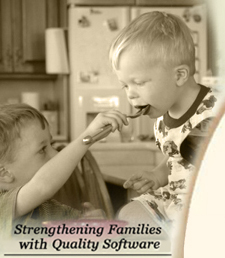 Cook'n with Betty Crocker

$29.95




Cook'n Software Download

$79.95


Villaware's Belgian waffle iron is the best I've found in twenty years of homemaking. It makes single 7-inch diameter waffles with the deep pockets characteristic of Belgian waffles. This waffle iron has many extra features. It has a green light which comes on and a loud tone which sounds when the waffle is done. The light and tone also indicate when the iron is sufficiently pre-heated. There is a thermostat with settings for six different levels of doneness, so that you can choose between a moist, tender Belgian waffle and a crisp one. The iron is designed to minimize overflows and is much easier to keep clean than other waffle irons I've tried. Its chrome housing wears (and looks) better than enamel housing you see on most waffle irons.

Sincerely,

Karen B.



• Current Issue

• Newsletter Archive
• Contact Info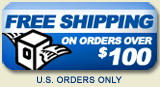 DAILY SPECIAL
Order today and receive a 10% Off All Orders of Cook'n!
Find out how.
Belgian Waffle Maker
Restaurant quality waffles in no time at all!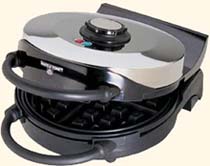 Belgian Waffle Maker
---
List Price: $104.85
Your Price: $48.95
You Save: $55.90

Temporarily Out of Stock!
---
Availability: Usually ships in 1-2 business days.
FREE CD with purchase

Straight from "America's
Most Trusted Kitchens", get
1000 recipes from Pillsbury's
Complete Cookbook, with
photos, video clips and more.
FEATURES
---
Bakes a 7 1/2 inch round waffle

Thick 1 1/4 inch deep pockets

6 settings for cooking (light to dark)

XylanNon-stickcoating

Stands upright for storage

Waffle-Tone alert (signals when waffles are ready)

---


This Villaware Belgian Waffle Maker bakes a perfect 7 1/2 inch round waffle with 1 1/4 inch deep pockets. It has many convenient features, some of which are the Browning Control Dial that allows you to select from 6 different settings, from light and soft, to dark and crisp. It also has the Waffle Tone, which alerts you when your waffle is done. Clean up is a breeze with the Xylan non-stick coating. This Belgian Waffle Maker is perfect to make Professional Belgian Waffles in the comfort of your own kitchen.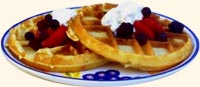 In Belgium, waffles are more of a dessert than a meal. There are street vendors who sell waffles only. Some are dipped in chocolate and served with whipped cream while others have berries smothered all over them. Learn how to make Kathy's Tender Sour Cream Waffles?

Tips for making a delicious waffle
To add flavor to your waffle mash up some fresh strawberries and add sugar to them. Then spread your fresh strawberry mix over your waffle and enjoy.

Try putting chocolate chips onto a warm waffle. The melted chocolate adds a sweet flavor and is a great addition to your meal.

If using berries, top your waffle with whip cream, it's the perfect touch to a perfect waffle.
---
Customers who bought this item also enjoy: