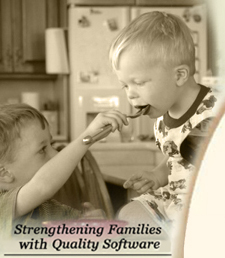 Cook'n with Betty Crocker

$29.95




Cook'n Software Download

$79.95


Hi Dan,

Dr. Oz on Oprah was the reason I ordered your agave.

I got off sugar several years ago but struggle to get myself off of sugar substitutes. The agave should help me with this.

I enjoy your updates.

Suzanne Brindle


---

I wanted to tell you that we received our Agave order a few days ago. I immediately looked at every single recipe on the CD. Then I made myself some grape Kool-aid using the nectar. Delicious!

Thanks for bringing this product to our attention as well as for offering it. My husband is diabetic and now my doctor tells me I am. This product is ideal for us. I can't wait to tell our doctor about it (I see him this Friday). I am certain he will like that we are using the product. Thanks again, Dan.

Penny Burwell

---
I printed everything from your web site re:agave and took it to my doctor (internist) yesterday. He had never heard of it and found it interesting. He said he thought I should use it which of course I already was.

Yesterday I fixed the AGAVE GARLIC PORK CHOPS and Jim and I absolutely loved them. We both agreed that this is now our favorite pork chop recipe. I am eager to prepare more of the recipes but I find it difficult to choose which one because I want to fix them all. Thanks again, Dan. It is wonderful to eat delicious food that doesn't send our blood sugar sky high. The flavor of the agave is wonderful.

Sincerely,

Penny Burwell


---

Dear Dan,
I love your Cook'n with Agave. I am already using it and everyone is enjoying the meals.

I am 100% satisfied and looking forward to your new issue.

Sincerely,

Deirdre Crevier
• Current Issue

• Newsletter Archive
• Contact Info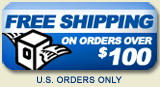 Over 300 Agave Recipes
Discover the Healthy "Sweetness" of Agave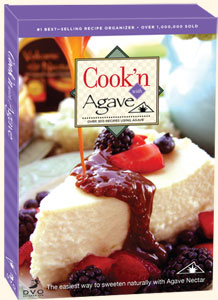 (click to enlarge)
---
List Price: $29.95
Your Price: $19.95
You Save: $10 (33%)


---
NOTE: The download contains the recipes ONLY. You must have Cook'n installed to use this download! The CD contains the Cook'n Recipe Browser. If you want to organize your own recipes you should purchase the Cook'n Recipe Organizer.
---
Availability: Usually ships within 24 hours
System Requirements >>
Not sure what to order? >>

FEATURES
---
Over 300 Agave Recipes
Safe for Diabetics!
Organic and Kosher Certified!
4 times sweeter than sugar
FREE bottle of Agave Nectar
with CD purchase (A $9.95 Value!)
Turn your recipes into instant sensations with a 13.4 oz bottle of Agave Nectar! Perfect for pies, pastries, ice creams, cookies,yogurts, drinks, and desserts.
Limited Time Offer!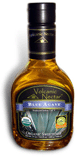 Coca Cola is using this awesome, healthy, new, all-natural sweetener in an
Agave Energy Drink
---
With Agave Nectar and the Cook'n with Agave CD, it's easy to reduce your sugar intake.

---

It's easy to reduce the sugar in your meal and still enjoy your favorite sweets. With Agave Nectar and this CD you can indulge in the mouthwatering recipes such as New York Style Agave Cheesecake, Apricot Glazed Chicken, Butternut Squash Soup, and Warm Chocolate Agave Torte.

There are dozens of desserts, appetizers, main dishes, sauces and salads, plus much more.

There are enough exciting choices to fill weeknight dinners and special occasion menus for years!

Volcanic Nectar is a natural Blue Agave sweetener that flourishes in the nutrient rich volcanic soils of Mexico. Agave will excite and captivates the senses. So treat your taste buds to a healthy sweetner coupled with tried and tested recipes in on the Cook'n with Agave CD!

300+ Agave Recipes!
• See the recipes that come on this CD.
• Learn more about the features of the Cook'n engine.
• Find out what people are saying about Cook'n.
---
Customers who bought this item also enjoy: