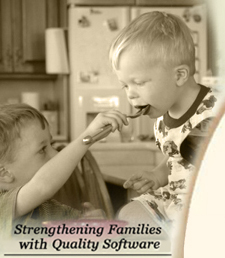 Cook'n with Betty Crocker

$29.95




Cook'n Software Download

$79.95


I've had lots of toasters over the years. This one, quite simply, is the best I've ever used. Bagels, English muffins, bread, PopTarts, whatever. It does a beautiful job toasting, getting the hot items out of the toaster is easy and SAFE, and the angle at which the toast comes out of the machine is very convenient. A great machine at a great price. You won't be disappointed.



• Current Issue

• Newsletter Archive
• Contact Info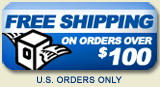 DAILY SPECIAL
Order today and receive a 10% Off All Orders of Cook'n!
Find out how.
T-Fal Avante Deluxe 4 Slice Toaster
The Ultimate 4 Slice Toaster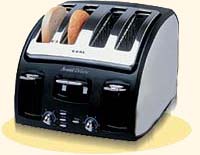 T-Fal Deluxe 4 slice Toaster
---
List Price: $79.00
Your Price: $64.95
You Save: $14

---
Availability: Usually ships in 1-2 business days.
FREE BREAKFAST CD with purchase

FEATURES
---
Hi-tech design with chrome finish

4 Extra wide angled slots for easier and safer bread handling

New Reheat and Bagel settings. Evenly toast the inside of bagels without burning the outside

Self-adjusting slots allows even toasting of all kinds of breads whatever the thickness

---

The Avante Deluxe 4 Slice Toaster has a unique 2-position bread lift for easy removal of small pieces of toast or bagel.

The Avante Deluxe 4 slice Toaster also features a carrying handle, and pull out crumb tray for convenience and easy cleaning.


The Safe-to-touch exterior keeps the outside of the toaster safe to touch or move around even while your toast is cooking. The toaster has a cancel button that allows you to stop toasting at any time. Electronic browning control has 6 different positions and settings to brown toast just the way you like it.

---
Customers who bought this item also enjoy: