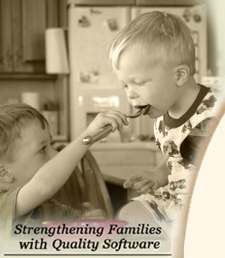 TOP SELLERS
• Current Issue
• Newsletter Archive
• Sign Up Now


• Contact Info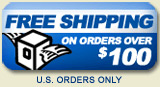 I am here to say THANK YOU! Your software is great!!!

When I read the description of the recipe program, I thought it was too good to be true (the price, the ability of the software, etc.). I even called your company by telephone to ask if I understood the promotional information correctly.

Upon receiving it and using it, I have discovered that every bit of it is true! (I LOVE the nutritional calculation feature!) Thanks so much for your product and for keeping it affordable, too!

Debi Self Read more...

Shrimp and Orange Tossed Salad
DVO Recipe Center
Serves: 4


2 oranges
1/3 cup orange juice
12 ounces peeled, deveined shrimp
1 teaspoon snipped fresh rosemary (1/3 teaspoon dried rosemary)
2 tablespoons white wine vinegar
2 tablespoons salad oil
6 cups fresh spinach, torn
1 red onion, small, thinly sliced and separated into rings

Grate 1 teaspoon orange peel; set aside. Peel and section oranges over a bowl to catch any juice; set sections aside. Measure juice and add additional orange juice to equal 1/3 cup; set aside. Rinse shrimp and pat dry. Cook in boiling, salted water for 1-3 minutes or until shrimp turn opaque. Drain and rinse under cold water. Set aside. In a saucepan, bring reserved orange juice and rosemary to a boil. Remove from heat; stir in the grated orange peel, vinegar, and oil. In a large bowl, toss together the spinach, onions, oranges, and shrimp. Dress salad with orange dressing. Toss lightly to coat.


**Let Cook'n do the math for you. Just enter the number of people you'd like your recipe to serve and then print out the multiplied recipe and shopping list!


Help on downloading recipes

---

OTHER GREAT RECIPES AND ARTICLES
• Grilled Chicken Salad
• Summertime Pasta Salad
• Ranch Dressing
• Tangy Low Fat Cole Slaw
• Italian Bread Salad
• Turkey Salad with Strawberry Pepper Vinaigrette
• LIVE VOTE: Miracle Whip or Real Mayonnaise?
• HomeCook'n Cover Page



for Windows 9x/2000/ME/NT/XP/Vista

Not sure what to order?


Piles of recipe cards in your drawer?
Download Cook'n today and get organized!
Cook'n Cookbook Software Download - MSRP $99.95
(Save 20%)
Download: $79.95
CD: $79.95

Buy the CD or download the full version of Cook'n right now! Includes over 300 of our best recipes.
---
Copyright © 2007 DVO Enterprises, Inc.