Grilled Chicken Salad
DVO Recipe Center
Serves: 4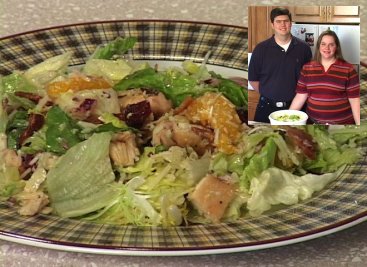 Kathy shows Dan how easy it is to make this tasty Grilled Chicken Salad. Click here (56k) to watch the video. If you have a high speed connection, click here (300k) to see a higher quality video clip.

By the way, in the video it looks like Dan is giving you the bird. He's not. He had surgery on his finger recently and he can't bend it yet... Whoops!

2 bags european salad mix
1 head iceberg lettuce
1/2 c. craisins
1 lb. bacon crumbled
6-8 chicken breasts (grilled & seasoned with hickory flavor salt, pepper, and garlic salt)
2 c. shredded parmesan cheese
1 c. sliced almonds

Dressing:
1/2 c. minced red onion
1/2 c. red wine vinegar
1/2 c. canola or olive oil
1 c. sugar
1 1/2 tsp salt
2 tsp dry mustard

Clean lettuce mix and iceberg lettuce and pat dry. Tear iceberg into bite-sized pieces. Cook bacon until crisp and crumble. Chop cooked chicken into chunks.

In a large bowl, mix European salad mix, iceberg, craisins, bacon, shredded parmesan and sliced almonds. Toss together to mix well. When ready to serve, mix the European salad mix, iceberg, bacon, etc. . . .


**Let Cook'n do the math for you. Just enter the number of people you'd like your recipe to serve and then print out the multiplied recipe and shopping list!

Help on downloading recipes
---
OTHER GREAT RECIPES AND ARTICLES
• Summertime Pasta Salad
• Ranch Dressing
• Tangy Low Fat Cole Slaw
• Italian Bread Salad
• Turkey Salad with Strawberry Pepper Vinaigrette
• Shrimp and Orange Tossed Salad
• LIVE VOTE: Miracle Whip or Real Mayonnaise?
• HomeCook'n Cover Page