Pumpkin Bars
DVO Recipe Center
Serves:8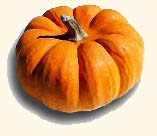 3/4 cup butter
2 cups white sugar
4 eggs, beaten
1 (15 ounce) can pumpkin puree
2 cups all-purpose flour
2 teaspoons baking powder
1/2 teaspoon baking soda
1/2 teaspoon salt
1 teaspoon ground cinnamon
1/4 teaspoon ground nutmeg
1 cup chopped walnuts
1 (3 ounce) package cream cheese, softened
1/3 cup butter, softened
1 teaspoon vanilla extract
3 cups sifted confectioners' sugar
Preheat oven to 350 degrees F (175 degrees C). Butter and flour a 10x15 inch jellyroll pan.
In a large bowl, cream together 3/4 cup butter and white sugar until light and fluffy. Beat in the eggs one at a time, then stir in the pumpkin. Combine the flour, baking powder, baking soda, salt, cinnamon, and nutmeg; stir into the pumpkin mixture. Mix in walnuts. Spread evenly into the prepared pan.
Bake for 30 to 35 minutes in the preheated oven, or until toothpick inserted near the center comes out clean. Cool completely before frosting.
In a medium bowl, mix together the cream cheese, 1/3 cup butter, and vanilla until smooth. Gradually blend in sugar, then beat until smooth. Spread over cooled pumpkin bars. Cut into squares.
Help on downloading recipes
Be sure to check the Cook'n Recipe Archive for more recipes.
---
Copyright © 2007 DVO Enterprises, Inc.