Carrot Chowder
DVO Recipe Center
Serves: 5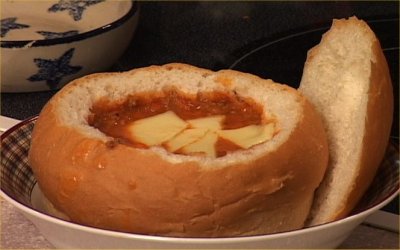 Melanie Zimmerman's award-winning recipe

1 pound ground beef
1/2 teaspoon salt
1/2 teaspoon pepper
1/2 cup diced celery, packed
1/2 cup diced green peppers, packed
1/2 cup diced onions, packed
2 1/2 cups coarsely grated carrots, packed
4 cups tomato juice
1 1/2 cups water
1 teaspoon sugar
1/2 teaspoon garlic salt or 3 cloves fresh minced garlic and 1/4 tsp salt
1/4 teaspoon ground marjoram
2 10 3/4-ounce cans cream of celery soup or 2 1/2 cups Cream of Celery Concentrate

Brown beef and discard fat. Add the salt and pepper as you brown the meat. Add celery, peppers and onions. If you don't pack the vegetables in the cup the soup will be a lot thinner. Simmer 5 minutes and then add carrots and simmer additional 5 minutes to let meat flavor be absorbed by the vegetables. Add tomato juice, cream of celery soup, water, sugar, garlic salt, and marjoram. The marjoram is absolutely necessary for the "winning" flavor. Bring to a boil and turn down the heat to a simmer. Simmer at least 30 minutes at the very least. I often put it in a crock pot on simmer several hours. It is even better the next day. Freezes well or stores several days in fridge. I usually triple recipe.



Help on downloading recipes
---
| | |
| --- | --- |
| OTHER GREAT RECIPES AND ARTICLES | |

for Windows 9x/2000/ME/NT/XP/Vista

Not sure what to order?


Piles of recipe cards in your drawer?
Download Cook'n today and get organized!
Cook'n Cookbook Software Download - MSRP $99.95
(Save 20%)
Download: $79.95
CD: $79.95

Buy the CD or download the full version of Cook'n right now! Includes over 300 of our best recipes.
---
Copyright © 2007 DVO Enterprises, Inc.