I wonder if you relate to this: When I was a little girl my mom was always trying to get my sister, Sue, and me to eat Brussels sprouts. The thing was, the smell of them cooking got to us before we ever got to the table. There was no way we could choke them down. When the folks weren't looking, we'd smuggle them under the table to our Cocker Spaniel, Clancey.

But as I've gotten older, my palette has gotten wiser—more refined. And now I really like the little guys. I like to chop them up and mix them with cauliflower, broccoli, and any other leftover veggies that are hanging out in the fridge.

Brussels sprouts are very high in fiber, and they belong to the disease-fighting cabbage family. Indeed, they look like miniature cabbages. Like broccoli and cabbage -- fellow cruciferous vegetables - Brussels sprouts may protect against cancer with their indole, a phytochemical.

Brussels sprouts are also particularly rich in vitamin C, another anti-cancer agent. Whether you choose them for their healthiness or because you love Brussels sprouts, one thing is certain: You will be getting a good-for-the-body food that is high in protein and low in fat and calories. Take a look at the nutritional breakdown of just ˝ C of steamed Brussel sprouts: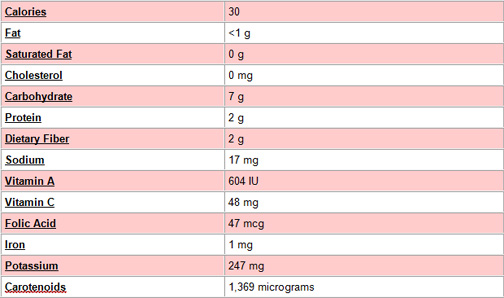 They're available October through March. Look for tight, vivid green heads with unblemished, compact leaves. Avoid those with loose leaves and any signs of yellowing. Refrigerate in a plastic bag up to 5 days. Use as soon as possible since flavor gets stronger with age. No kidding!

Here are tips on the best way to cook them: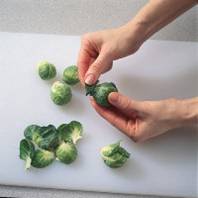 Cut stem from each Brussels sprout and pull off outer or bruised leaves.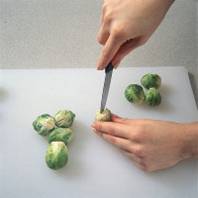 For faster, more even cooking, cross-hatch core by cutting an "X" deep into the stem end of each sprout with small paring knife. Refresh sprouts for 5 minutes in bowl of cold water; drain.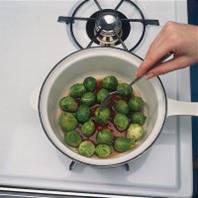 Use large enough saucepan to allow sprouts to fit in a single layer. Pour cooking liquid (broth or water) into saucepan. To braise sprouts, place sprouts with stem ends down in broth.
Bring to a boil over high heat; reduce heat to medium-low. Cover; simmer about 5 minutes or just until sprouts turn bright green and are crisp-tender when pierced with a fork. Uncover; simmer until liquid is almost evaporated. Drain.
And just today a unique recipe for them showed up in my email, from the finecooking.com website. The reviews for it were all glowing, so let's give it a try:
Roasted Brussels Sprouts
Serves 6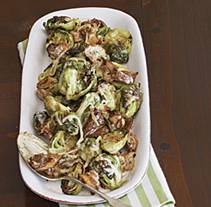 1-1/2 lb. Brussels sprouts, trimmed and halved lengthwise (5 cups)
5 Tbs. olive oil
Kosher salt
3 Tbs. unsalted butter
3/4 lb. wild mushrooms, such as chanterelles or hedgehogs, halved if small or cut into 1-inch wedges (about 4-1/2 cups)
1 large shallot, thinly sliced (1/2 cup)
1/4 cup dry white wine
1 cup heavy cream
Freshly ground black pepper
Position a rack in the center of the oven and heat the oven to 450°F. Put the Brussels sprouts on a rimmed baking sheet, and drizzle with 3 Tbs. of the olive oil; toss to coat. Spread the Brussels sprouts in an even layer and season generously with salt. Roast until tender and browned, about 25 minutes. Remove from the oven and set aside.
Heat a 12-inch skillet over high heat. When the pan is hot, add 1 Tbs. of the olive oil and 2 Tbs. of the butter. When the butter has melted, add the mushrooms in an even layer, and cook, stirring occasionally, until the mushrooms are golden-brown and tender and the mushroom liquid (if any) has evaporated, 5 to 8 minutes. Season to taste with salt and transfer to a plate.
Set the skillet over medium-high heat and add the remaining 1 Tbs. olive oil and 1 Tbs. butter. When the butter has melted, add the shallot, season with a pinch of salt, and cook, stirring occasionally, until tender and golden, 3 to 4 minutes.
Add the wine and cook until reduced by half, about 1 minute. Return the mushrooms to the pan and add the Brussels sprouts and cream. Stir in a few grinds of pepper and continue to cook, stirring occasionally, until the cream thickens and coats the vegetables nicely, 3 to 4 minutes. Season to taste with salt and pepper. Serve immediately.

Download this recipe.
---
(If YOU have a smart idea, won't you share it? Life is so much easier and we accomplish so much more when we pool our resources. And after all, we're all in this together. So email
patty@dvo.com
or
alice@dvo.com
with YOUR The Glorious Asparagus Spear!)
---
Contribute to the Cook'n Club!
DVO would love to publish your article, prose, photography and art as well as your cooking, kitchen and nutrition tips, tricks and secrets. Visit the Newsletter Submission / Win Win for All section in our Forum for more information and details.
---