Major food companies have test kitchens and are always working on different and more applications of their products. One of the happy outcomes of all their testing and tweaking are the recipes printed on the packaging of these products.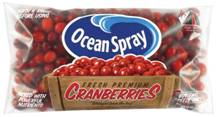 Consider Ocean Spray Cranberries, for instance. Not only does their current 12 oz package of berries sport three good cranberry recipes, it also gives instructions on how to make a cranberry candle float! And following the pattern of other food companies, Ocean Spray product packaging also gives a website to go to for finding more of their recipes. A recipe they continue to print on their cranberry bag, that I have been using for a few years is for cranberry bread. We love this—you try it and see what you think:
Cranberry Nut Bread
(Makes 1 large or 2 smaller loaves)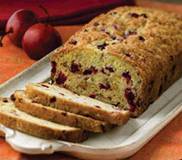 2 C flour
1 C sugar
1 ½ tsp baking powder
1 tsp salt
½ tsp baking soda
¾ C reconstituted orange juice
2 Tbsp sunflower (or other heart-healthy oil)
1-2 Tbsp grated orange peel
1 egg, well beaten
1 ½ C Ocean Spray fresh or frozen cranberries, coarsely chopped
½-3/4 C chopped nuts
Preheat oven to 350°. Grease one large (9x5 inch) loaf pan or two smaller (6 x 3 inch) loaf pans. Mix together flour, sugar, baking powder, salt and baking soda in a medium mixing bowl. Stir in orange juice, oil, orange peel and egg. Mix only until blended (don't over mix), folding ingredients together. Fold in nuts and cranberries. Spread evenly in loaf pan or pans. Bake for 55 min. or until a toothpick inserted in the center comes out clean. Cool on rack for 15 minutes. Remove from pan; cool completely.

Download this recipe.
Moving away from cranberries: I found my favorite brownie recipe on the back of a cocoa can years ago. And we all know about the scrumptious recipes found on the inside wrappers of Philadelphia Cream Cheese (on house brand wrappers as well, by the way). Jello boxes offer good recipes; Quaker Oatmeal (and of course, house brands again) packaging displays tried and true recipes and web addresses are also listed so we can find more uses for their products.
Curious about these websites, I checked them out. I was especially interested in the Land O Lakes Butter site. Here's where I found one of our all-time favorite cookie recipes—Land O Lakes calls it a "keeper!" See for yourself why that's no exaggeration:
Lemon Meltaways
(Makes 4 dozen cookies)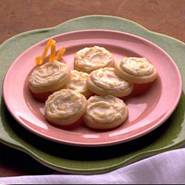 Cookies:
1 ¼ C all-purpose flour
½ C cornstarch
1/3 C powdered sugar
¾ C butter, softened (they'd like it to be Land O Lakes, of course)
1 tsp grated lemon peel
1 Tbsp lemon juice
Frosting:
¾ C powdered sugar
¼ C butter, softened (same deal—they're hoping it'll be Land O Lakes, but we know any butter will work)
1 tsp grated lemon peel
1 tsp lemon juice
In large mixing bowl combine all cookie ingredients. Beat at low speed, scraping bowl often, until well mixed (2-3 min). Divide dough in half. Shape each half into 8x1 –inch roll. Wrap in plastic and refrigerate until firm (1-2 hrs).
Heat oven to 350°. With sharp knife, or dental floss, cut each half into ¼ inch slices. Place rounds two inches apart on cookie sheets. Bake for 8-12 min. or until set. (Cookies will NOT brown.) Cool completely.
In small mixer bowl combine all frosting ingredients. Beat at medium speed, scraping bowl often, until fluffy (1-2 min.) Frost cooled cookies. These are the best!

Download this recipe.
Now for an idea:
I'm thinking ahead for 2010 and thought it would be fun to collect recipes off food product packages (hey, they're tested and they're FREE) and combine them into a little cook book as a stocking stuffer for my older kids and good friends for Christmas next year. Meanwhile, you can see there's a whole lot more happenin' on a label besides nutritional information! Happy reading, and let us know if in your reading, YOU make a happy discovery!
---
Contribute to the Cook'n Club!
DVO would love to publish your article, prose, photography and art as well as your cooking, kitchen and nutrition tips, tricks and secrets. Visit the Newsletter Submission / Win Win for All section in our Forum for more information and details.
---
---