I had no idea that while I was munching on pistachios I was actually doing something great for my body. Sometimes nuts get a bum rap: too high in fat, and the serving recommendation would hardly fill a teaspoon! And we can forget about cashews! But pistachios are perfect when we want to crunch on something and actually be able to eat enough to feel full.
Originally cultivated in Western Asia, this nut is now grown in Australia, New Mexico, and California. One little fact: it can take up to 20 years for a pistachio grove to reach its peak performance! There is also something called the "Pistachio Principle", so named by Dr. James Painter of Eastern Illinois University. According to the good doctor, this principle describes methods of fooling your body into eating less. For example, having to de-shell the nuts before eating them seems to slow our consumption of the pistachio, and we actually feel full faster even though we have eaten less! Gotta love that!
Now according to Prevention Magazine:

One serving of
pistachios
is 49 nuts, more than any other tree nut.

Pistachios
are high in phytosterols which may lower cholesterol levels and decrease the risk of heart disease. In animal studies phytosterols have been shown to potentially have anti-cancer properties.

Pistachios
, when eaten with high-carbohydrate foods, may result in lower than expected blood sugar levels, an important factor in reducing risk of diabetes.
According to a Penn State University study, it is suggested that
pistachios
reduce the body's biological response to stress.

One serving of
pistachios
has as much potassium (300mg, 8%) as an orange (250mg, 7%).

Forty-nine
pistachios
serve up to 20 percent of your Daily Value of B6, about the same as half an avocado.

You can obtain more dietary fiber from a serving of
pistachios
(3g) than a 1/2 cup of cooked broccoli, and the same amount of dietary fiber as an orange or an apple — approximately 10 percent of the Daily Value.

Just a single serving of
pistachios
provides you with the same amount of protein in a one-ounce serving of soybeans and can serve as a protein alternative to meat, poultry or beans according to the USDA Food Guide Pyramid.

Pistachios
are a naturally cholesterol-free
Braised Pistachio and Apple Stuffing with Apple Butter
by Stephanie Izard
Yield: 4 servings
For braised pistachio and apple stuffing: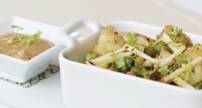 3/4 cup pistachios, shelled
1 1/2 cups chicken stock
2 tablespoons butter
2 tablespoons olive oil
3 cloves garlic, minced
1/2 cup onion, diced
salt and pepper
1/2 cup fennel bulb, diced
1 cup celery root, peeled and diced
1 Fuji apple, peeled and diced
1 egg
1/2 cup apple juice
6 cups cubed Italian country bread
1 tablespoon fresh thyme, chopped
For apple butter:
3 Fuji apples, peeled and diced
1/2 lemon, juiced
1 tablespoon sugar
salt and pepper
Preheat oven to 375°F.
For braised pistachio and apple stuffing:
Place 1/2 cup of pistachios in a small sauce pot and cover with chicken stock.
Add a pinch of salt.
Simmer for 15 minutes or until tender.
Strain liquid and reserve.
Meanwhile, roughly chop 1/4 cup pistachios and set aside.
Heat sauté pan and add 1/2 tablespoon butter and 1/2 tablespoon olive oil.
Add garlic and onions and sweat (do not brown) for 3-4 minutes or until tender.
Season with salt and pepper.
Remove from pan and set aside.
Repeat process with fennel, celery root and apples — each separately as cooking times may vary.
Celery root may take a few extra minutes.
In large bowl, whisk egg.
Add in apple juice and 1/2 cup of reserved chicken stock.
Add in vegetables, bread, thyme and braised pistachios.
If additional moisture is needed, add a bit more chicken stock.
Season with salt and pepper.
Grease casserole dish with butter and add in mixture.
Sprinkle with chopped pistachios and bake until warmed through, about 35-40 minutes.
Serve with apple butter.
For apple butter:
Place apples, lemon juice and sugar in a small pot and cover with water.
Simmer until most water has evaporated and apples are very tender.
Place in blender and blend until smooth. Season to taste with salt and pepper.

Download this recipe.
Pistachio-Crusted Halibut
By Rick Tramonto
For pistachio-crusted Halibut: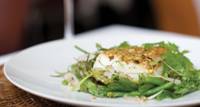 1 cup chopped pistachios
1 cup coarse breadcrumbs
1/2 teaspoon kosher salt
1/8 teaspoon freshly ground black pepper
2 eggs, beaten
1/2 cup all purpose flour
4 each skinless paves Alaskan Halibut, 5 oz each
1/4 cup extra virgin olive oil
Preheat oven to 350°F.
Place pistachios, bread crumbs, salt and pepper together in a shallow baking dish, stir to combine.
Place eggs in separate dish and flour in another dish.
Take each portion of halibut and dredge only top side in flour, then eggs, then pistachio/bread crumb mixture, being careful to dredge top side only.
Heat olive oil in a sauté pan to medium heat.
Place breaded side of fish in hot oil and sear until golden brown; approximately 3-4 minutes.
Flip fish gently so breaded side of fish is on top, and finish in oven for approximately 8-10 minutes.
---
Contribute to the Cook'n Club!
DVO would love to publish your article, prose, photography and art as well as your cooking, kitchen and nutrition tips, tricks and secrets. Visit the Newsletter Submission / Win Win for All section in our Forum for more information and details.
---
---