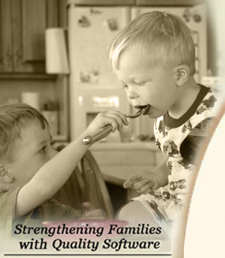 Volume I - July 10, 2009
Time-Saving Tips with Vegetables
and an Authentic Pico de Gallo Recipe
by Alice Osborne and Patty Osborne

We used to think things slowed down in the summer, but we can't really say that anymore. No matter the season, life can be rat-racy. So we wanted to share some ideas that even the busiest cooks can use to create delicious, vegetable-oriented home-cooked meals. After all, our gardens are starting to produce, so let's make things a little easier in the process of using our bounty!

Pre-chop vegetables for the week and keep prepared salad in a vacuum seal plastic container or bag for storage. They'll keep for about a week.




Use a food processor to chop vegetables.


Tape a bag to the counter by your cutting board to quickly catch the leaves, stems, peelings, etc. as you prepare your fresh veggies. Then when finished, remove entire bag and toss in the trash or empty onto your compost pile.



Be sure to freeze some of your vegetables—you'll be glad they're already prepared and they'll be easy to cook with.



Scald/blanche corn on the cob for freezing in your dishwasher. No kidding! Peel and thoroughly de-silk, then stand ears vertical in the racks. Set water temperature as high as it will go and run the machine on the rinse cycle. Leave corn in the dishwasher for about an hour after the cycle stops—the steam will continue to blanche the corn. Then remove ears, let cool; cut corn off cobs and place kernels in freezer containers or bags and freeze. Talk about a minimum of muss and fuss!



When steaming vegetables, a wet kitchen towel between the pot and the lid will keep the steam in the pot, reducing the cooking time.


If wanting browned onions or other root vegetables, don't add any salt until after they are nicely browned and caramelized. Salt slows down the caramelization process.



When sautéing mushrooms, don't crowd the skillet. They need room so the liquid they give off will evaporate quickly so they can brown.


Start with a clean kitchen and load the dishwasher as you cook - cleanup after the meal is much easier.

Pico De Gallo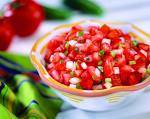 Finely chopped organic tomatoes (3 – 4 medium sized)
Finely chopped organic onions (1 medium)
Diced organic green onions (one stalk, optional)
Organic cilantro, stems removed, chopped (your own preference of amount)
Sea salt and pepper to taste
Organic chili powder (to taste – some people like spicy, some prefer mild)

Mix all ingredients together in a bowl, adjust amounts according to your own taste. Serve over tacos.



Download this recipe.
---
Contribute to the Cook'n Club!
DVO would love to publish your article, prose, photography and art as well as your cooking, kitchen and nutrition tips, tricks and secrets. Visit the Newsletter Submission / Win Win for All section in our Forum for more information and details.
---
---