Pancakes, while flat, shouldn't be dense on the inside. Too much force when flipping, and the tiny air bubbles pop and the consistency goes flatter than flat. A little finesse is all it takes to insure your pancakes and crepes are light as feathers inside. The Food Network's Katherine Alford had a great demonstration on this very subject that we thought we'd share: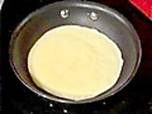 To flip a crepe, wait until the bottom is cooked to a light golden color and the edges are cooked through. Cooking crepes takes a bit of patience. It seems the first few are never as good as the later ones. And if the pan is too hot, the crepes will be lacy...if the pan is too cool, the crepes will stick.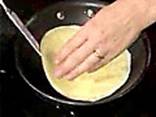 Peel back an edge of the crepe with your fingers or a small knife. Hold the edge with both hands and lift the crepe up gently. Then set it down again in the pan cooked side up.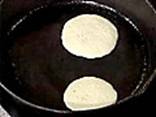 To flip a pancake, wait until most of the bubbles on top have burst and left a hole below. The batter takes on a dry sheen as well.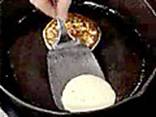 Using a wide spatula, lift the pancake off the griddle and flip it over, placing it back down on the griddle. The first ones won't color as evenly as the later ones.
NOW, how about a couple great recipes to practice on? One is even gluten-free:
Lemon-Poppyseed Pancakes
Serves 4
1 cup buttermilk
4 eggs separated
1 cup flour
dash salt
2 tablespoons sugar
1/2 teaspoon baking soda
zest and juice from 1 lemon
1/2 tablespoon poppyseeds
Beat together buttermilk and egg yolks until well-blended. In a separate bowl, beat the egg whites until soft peaks form.
Combine the flour, salt, sugar, and baking soda into the milk-yolk mixture. Fold the beaten egg whites into the batter, along with the lemon zest and juice, and the poppyseeds. The egg whites should be blended, but somewhat distinct from the rest of the batter.
On a nonstick griddle, or large pan, lightly greased with butter or oil if necessary and heated to medium, add the batter by 1/2 cup ladlefuls. Cook until lightly brown on the bottom, and bubbles begin to rise to the top, about 3 minutes. Turn over and cook until brown on the second side.
Pancakes can remain in a warm oven until ready to serve, but then should be eaten immediately. Sprinkle pancakes with additional poppyseeds if you like, and serve with pure maple syrup.

Download this recipe.
Cornmeal Pancakes
Gluten-Free!
2 cups stoneground yellow cornmeal, medium grain
1/2 cup rice flour
1 tablespoon sugar
2 teaspoons baking powder
1/2 teaspoon baking soda
1/2 teaspoon salt
1 1/2 cups buttermilk
1/2 cup water
1/4 cup vegetable oil
1 large egg
Preheat oven to 200°. In a large bowl, combine the cornmeal, rice flour, sugar, baking powder, baking soda and salt. In a medium bowl, beat the buttermilk, water, oil and egg with a fork until blended. Add to the cornmeal mixture and mix until lumps are eliminated. Lightly oil a griddle and heat over medium heat. For each pancake, the recipe recommends pouring about a 1/4 cup of the batter onto the griddle. I made my pancakes slightly larger. Cook for 2 to 3 minutes, until brown. Turn the pancakes and cook for about 2 minutes longer, or until browned on the second side. I kept my pancakes warm in the oven. My pancakes cooked a little faster than this on med. heat.
NOTE: Don't use Bob's Red Mill Cornmeal — it's not processed in a wheat-free facility — there's the real threat of cross-contamination.

Download this recipe.
---
Contribute to the Cook'n Club!
DVO would love to publish your article, prose, photography and art as well as your cooking, kitchen and nutrition tips, tricks and secrets. Visit the Newsletter Submission / Win Win for All section in our Forum for more information and details.
---