Information Courtesy Care2 and Veronica Peterson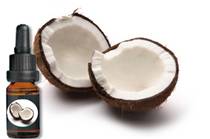 Dry skin, a paper cut, maybe even a tummy ache? Try a drop of coconut oil. Offering a myriad of health benefits, coconut oil is affordable, readily available and completely natural. Here are six reasons to give it a try:

Skin Care:
Coconut oil works wonders as a moisturizer for all skin types, especially dry skin and aging skin, leaving you refreshed and looking wide-awake. Alice cleanses and moisturizes with coconut oil with a little lavender essential oil added to it. The fat in the oil reduces the appearance of wrinkles without any irritation.
Coconut oil also helps with skin problems like psoriasis, dermatitis, eczema and other skin conditions. In fact, the oil is used in expensive skin care products. Try this easy, inexpensive recipe for a great honey and coconut oil moisturizer:
Honey and Coconut Oil Moisturizer
2 tablespoons coconut oil (extra-virgin, unrefined)
1 tablespoon of your favorite raw honey
2 drops vanilla, peppermint, or sweet orange essential oil (optional)
In a small bowl, whip together all ingredients. This sweet treat is now ready to use.
If the temperature in your kitchen is above 76F, the body honey will maintain a liquid consistency; if the temperature is below 76F, it will be a medium soft solid (because of the melting point of the coconut oil).
Take several bath towels (enough to cover your body) and dampen them with hot water (as hot is comfortable for you to touch) in an empty bathtub. Get in the tub and rub the honey mixture over your body, recline and cover yourself with the hot towels. Sit, relax, and enjoy until the towels are cool and you are ready to rinse. Rinse, pat yourself dry, and follow up with some plain coconut oil or your favorite all-natural lotion.

Download this recipe.

Stress Relief:
Long day at the office, kids won't stop screaming and your dog left a little "present" on your vintage bedspread? Relieve mental fatigue by applying coconut oil to the head in a circular, massaging motion. The natural aroma of coconuts is extremely soothing thus helping to lower your stress level.
Digestion:
The saturated fats in coconut oil have anti-bacterial properties that help control, parasites, and fungi that cause indigestion and other digestion related problems such as irritable bowel syndrome. The fat in coconut oil also aids in the absorption of vitamins, minerals and amino acids, making you healthier all around. Try this delicious vegan, creamed spinach recipe:
Coconut Creamed Spinach
Serves 4-6

1 pound well-washed fresh spinach, tough stems removed
1 tablespoon extra-virgin olive oil
1 teaspoon grated fresh ginger
1/2 teaspoon ground cumin
1/8 teaspoon ground nutmeg
3/4 cup unsweetened coconut milk
Salt and freshly ground black pepper, to taste
1/2 cup cashews, optional
Steam spinach over boiling water for 3 to 5 minutes, until just tender. Gently squeeze out excess moisture, then chop spinach coarsely and reserve. In a large skillet over medium heat, heat the oil and add the ginger, cumin, and nutmeg. Cook about 1 minute, until fragrant. Stir in the spinach, coconut milk, and salt and pepper, to taste. Simmer 5 to 7 minutes, until hot and creamy, then add cashews, if using, stirring to combine. Serve hot, over rice if desired.

Download this recipe.
Fitness:
Coconut oil has been proven to stimulate your metabolism, improve thyroid function, and escalate energy levels, all of which help decrease your unwanted fat, while increasing muscle. Because of this, coconut oil has shot to popularity by being the world's only natural low-calorie fat. Sign me up!

Healing:
When applied on scrapes and cuts, coconut oil forms a thin, chemical layer which protects the wound from outside dust, bacteria and virus. Coconut oil speeds up the healing process of bruises by repairing damaged tissues. Plus, it smells a heck-of-a-lot better than anything from the pharmacy.

Hair Care:
$20 hair conditioners? I don't think so! Coconut oil is one of the most nutritious products you can put on your hair. Massage a bit of the oil onto your scalp and presto – no more dandruff. Since it provides the essential proteins required for nourishing damaged hair, it's used in a ton of over-the-counter hair products anyway. Why not cut to the chase and skip all the unnecessary chemicals? Check out this easy conditioning recipe:
Coconut Oil Deep Conditioner
2 Tbsp extra virgin coconut oil
Melt in microwave. While still hot, but comfortable to the touch, work oil into pre-washed hair (hang head down and work it well into the ends and massage lightly into scalp). Wrap hair in a towel, go about your business. In an hour or two, or as little as 15 minutes, rewash hair well, rinse and pat dry. Alice does this once a month and her hairdresser raves about how soft and healthy her hair is.
---
Contribute to the Cook'n Club!
DVO would love to publish your article, prose, photography and art as well as your cooking, kitchen and nutrition tips, tricks and secrets. Visit the Newsletter Submission / Win Win for All section in our Forum for more information and details.
---
---