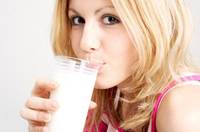 This is the time of year we start to think about New Year's resolutions. Most everyone includes some sort of health-oriented goal, so we thought we'd give you something to think about in terms of improving the diet: When to choose low- or full-fat foods? Here's a guide to help you sort through the maze of information out there and know if this could be one of your health goals for 2009:
Three Times To Go Low:
1. You've got cancer or diabetes in your family. A study published in the Journal of the National Cancer Institute shows that women who limited their fat intake to 24% of their total daily calories were 40% less likely to develop ovarian cancer than women who got approximately 39% of their daily calories from fat. Diabetes statistics were equally as encouraging.
2. You've got arthritis. According to researchers from Scotland's Centre for Rheumatic Diseases, replacing saturated fats with fruits, veggies, and beans significantly reduces pain associated with rheumatoid arthritis.
3. You've got insomnia. Getting more than 30% of your total calories from fat can throw off your body's internal clock. Researchers from Northwestern University in Evanston, Illinois, found that a high-fat diet can alter your daily sleep-wake cycle and lead to binge eating and late-night refrigerator raids.
Three Times To Go Full:
1. You need to improve your "good" cholesterol. A study published in the American Journal of Clinical Nutrition found moderate fat consumption (think heart-healthy fats like olive oil and avocados) had favorable effects on HDL, the good cholesterol, which lowers your risk of cardiovascular disease.
2. You'd like to build more muscle. After 24 weeks of eating three full-fat dairy foods a day, participants of a study published in Obesity Research had gained noticeably more lean muscle mass. Those who ate more than three servings of full-fat foods also had significant decreases in blood pressure.
3. You're trying to have a baby. Research from the National Center for Biotechnology Information at the U.S. National Library of Medicine shows that not getting the daily recommended amounts of fat can reduce a woman's likelihood of conceiving.
Here's a tasty and healthy recipe that is low in fat—but you'd never know it!
Skillet Rice with Vegetables
Serves 4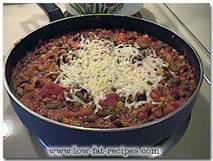 1 15oz can Stewed Tomatoes
1 15oz can Black Beans, rinsed and drained
2 cups mixed vegetables, frozen
1 cup water
¾ cup instant Brown Rice
½ teaspoon thyme
1 10oz can condensed Tomato Soup
1/3 cup Almonds, slivered
½ cup Mozzarella Cheese, shredded
Combine undrained tomatoes, beans, vegetables, water, uncooked rice and thyme in a large skillet. Bring to a boil then reduce heat. Cover and simmer for about 15 minutes. Stirring occasionally.
Add tomato soup and almonds. Stir and simmer for 3 minutes. Sprinkle with cheese and serve.
Optional: Add a dash of hot pepper sauce.
Per serving:
Calories 354, Fat 10g, Protein 19g, Carbohydrate 57g, Cholesterol 8mg.

Download this recipe.
Information Courtesy Gina Roberts-Grey, Natural Solutions Magazine
---
Contribute to the Cook'n Club!
DVO would love to publish your article, prose, photography and art as well as your cooking, kitchen and nutrition tips, tricks and secrets. Visit the Newsletter Submission / Win Win for All section in our Forum for more information and details.
---
---