Pears are called the botanical cousin to the apple and are often interchangeable in recipes. Like apples, they come in various sizes and types and ripen in late summer and fall—which is why we see so many roadside vegetable stands with this fruit now on display.
Pears ripen off the tree and soften at room temperature. Should you want to hasten the ripening process, just put the pears in a sealed paper bag along with a banana. For cooking, Bosc pears are good roasted or poached while Asian pears a good in salads and relishes due to their crisp and juicy flavor.
Pear Fritters
From Paula Deen

1/2 cup milk
1 egg, slightly beaten
2 teaspoons sugar
1 teaspoon ground cinnamon
1 cup sour cream
1 cup self-rising flour
2 peeled and cored pears
Vegetable oil, for frying
Vanilla ice cream, for garnish, optional
Cinnamon-sugar, for garnish, optional
Confectioners' sugar, for garnish, optional
Maple syrup , for garnish, optional
Mint leaves, for garnish, optional
Whisk together milk, egg, sugar, cinnamon and sour cream. Add flour. Set aside.
Slice the cored pears into rings. Heat the oil in skillet. Dip rings into batter and place in hot oil. Fry until golden brown.
Top with vanilla ice cream and sprinkle with cinnamon-sugar and powered sugar, if desired. Drizzle with maple syrup and garnish with a mint leaf, if desired.

Download this recipe.
Pear, Apple and Cranberry Crisp
From The Barefoot Contessa

2 pounds ripe Bosc pears (4 pears)
2 pounds firm Macoun apples (6 apples)
3/4 cup dried cranberries
1 teaspoon grated orange zest
1 teaspoon grated lemon zest
2 tablespoons freshly squeezed orange juice
2 tablespoons freshly squeezed lemon juice
1/2 cup granulated sugar
1/4 cup all-purpose flour
1 teaspoon ground cinnamon
1/2 teaspoon ground nutmeg
For the topping:
1 1/2 cups all-purpose flour
3/4 cup granulated sugar
3/4 cup light brown sugar, lightly packed
1/2 teaspoon kosher salt
1 cup old-fashioned oatmeal
1/2 pound (2 sticks) cold unsalted butter, diced
Preheat the oven to 350 degrees F.
Peel and core the pears and apples and cut them into large chunks. Place the fruit in a large bowl and toss with the cranberries, zests, juices, granulated sugar, flour, cinnamon, and nutmeg. Pour into a 9 by 12 by 2-inch baking dish.
For the topping:
Combine the flour, sugars, salt, oatmeal, and cold butter in the bowl of an electric mixer fitted with a paddle attachment. Mix on low speed for 1 to 2 minutes, or until the mixture is in large crumbles. Sprinkle evenly over the fruit, covering the fruit completely.
Place the baking dish on a parchment-lined sheet pan and bake for 50 minutes to 1 hour, until the top is brown and the fruit is bubbly.
Serve warm.

Download this recipe.
Pear Salad with Gorgonzola Dressing
From Sandra Lee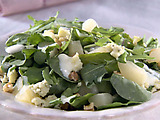 4 cups baby arugula, washed
1 (18-ounce) can pear halves, drained and cut into large dice
3 tablespoons apple cider vinegar
3 tablespoons olive oil
1 tablespoon honey
1/4 cup sour cream
1/4 cup plain yogurt
3/4 cup crumbled Gorgonzola
3 tablespoons walnuts
Divide arugula between 4 plates and top with pears.
In a medium mixing bowl, combine vinegar, oil, honey, sour cream and yogurt. Fold in Gorgonzola. Drizzle dressing over salad. Garnish each plate with walnuts and serve.
---
Contribute to the Cook'n Club!
DVO would love to publish your article, prose, photography and art as well as your cooking, kitchen and nutrition tips, tricks and secrets. Visit the Newsletter Submission / Win Win for All section in our Forum for more information and details.
---
---