Whether you are working in or outside of the home, there are days when cooking is just not one of your top 20 priorities. We found several recipes that are perfect for those stressful, over-booked, and just plain tired days. Put your feet up and enjoy!
Mexican-Style Chick-Pea Salad
From Gourmet Magazine

2 canned chipotle chiles in adobo
3 fresh jalapeno chiles
1 medium onion
2 garlic cloves
3 medium vine-ripened tomatoes
4 cups drained canned chick-peas (2 19-ounce cans)
1/4 cup extra-virgin olive oil
1/4 cup fresh lime juice plus additional to taste
3 tablespoons chopped fresh cilantro leaves
Freshly ground black pepper
Rinse chipotles. Wearing rubber gloves, separately seed and mince chipotles and jalapenos. Mince onion and garlic. Peel, seed, and chop tomatoes. Rinse and drain chick-peas, and in a large bowl stir together all ingredients except additional lime juice.
Chill the salad, covered, at least 2 hours and up to 1 day. Season salad with salt and add additional lime juice. Serve salad at cool room temperature.

Download this recipe.
Avocado Soup
From Emeril Lagasse

1 large ripe avocado
2 cups chicken stock
3 tablespoons fresh lime juice
1 teaspoon chopped fresh cilantro
2 teaspoons sherry
Salt and pepper
For the Salsa:
1/4 cup cooked corn kernels
2 tablespoons cooked black beans
1/4 cup sour cream
1 tablespoon finely diced red bell pepper
1/2 teaspoon chopped garlic
1 teaspoon olive oil
1 lime, juiced
Fresh cilantro, chopped
Salt and pepper
Peel and mash the avocado. Place the avocado, chicken stock, lime juice, cilantro, and sherry into a food processor. Puree until smooth, season with salt and pepper. Refrigerate for 1 hour. For the salsa. In a bowl combine the corn, black beans, peppers, garlic, olive oil, and lime juice. Season to taste with salt and pepper. Serve the soup in chilled cups topped with the salsa and fresh cilantro.

Download this recipe.
Salmon Tartare
From Emeril Lagasse

4 ounces smoked salmon, julienned
1 teaspoon capers chopped
1 tablespoon homemade or prepared mayonnaise
1 teaspoon chopped dill
1 teaspoon minced shallots
1/2 lemon, juiced
Salt and pepper
2 slices pumpernickel slices, squared of and cut into 4 triangles each, toasted
8 small dill sprigs
Combine salmon, capers, mayonnaise, dill and shallots. Taste, and adjust seasonings with lemon juice, salt and pepper. Divide among croutons and top each with a dill sprig.

Download this recipe.
Fresh Fruits and Dessert Cheeses
From Rachael Ray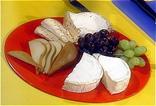 1 pound seedless grapes (black, red, or green)
8 ounces triple-creme cheese, like Gourmandise with Kirsh or walnut, St. Andre, or Camembert
2 Bosc pears, sliced
1 small box sweet whole wheat biscuits
Place rinsed grapes and pears on a cutting board with your favorite dessert cheeses and sweet biscuits for a simple, elegant end to your meal. Ask for help from the cheese counter specialist in your market; they'll let you try your pick of cheeses.
---
Contribute to the Cook'n Club!
DVO would love to publish your article, prose, photography and art as well as your cooking, kitchen and nutrition tips, tricks and secrets. Visit the Newsletter Submission / Win Win for All section in our Forum for more information and details.
---
---