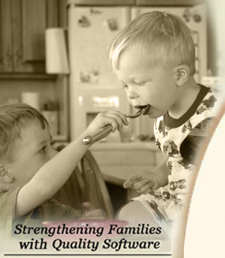 Volume I - January 18, 2008
Are YOU Prepared?
by Alice Osborne


January is a great time to get organized for the rest of the year, and dealing with the idea of the unexpected is always a smart component of any organization plan. After a major disaster the usual services we take for granted, such as running water, refrigeration, and telephones, may be unavailable.
Experts recommend that you should be prepared to be self-sufficient for at least 3 days. Store your household disaster kit in an easily accessible location. Put contents in a large, watertight container (e.g. a large plastic garbage can with a lid and wheels) that you can move easily.
Your basic emergency kit should include: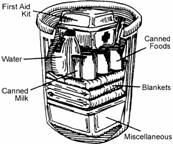 Water – one gallon per person per day

Food – ready to eat or requiring minimal water

Manual can opener and other cooking supplies

Plates, utensils and other feeding supplies

First Aid kit & instructions

A copy of important documents & phone numbers

Warm clothes and rain gear for each family member

Heavy work gloves

Disposable camera

Unscented liquid household bleach and an eyedropper for water purification

Personal hygiene items including toilet paper, feminine supplies, hand sanitizer and soap

Plastic sheeting, duct tape and utility knife for covering broken windows

Tools such as a crowbar, hammer & nails, staple gun, adjustable wrench and bungee cords

Blanket or sleeping bag

Large heavy duty plastic bags and a plastic bucket for waste and sanitation

Any special-needs items for children, seniors or people with disabilities. Don't forget water and supplies for your pets.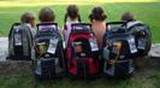 A component of your disaster kit is your "GO-Bag." Put the following items together in a backpack or another easy to carry container in case you must evacuate quickly. Prepare one GO-Bag for each family member and make sure each has an I.D. tag. You may not be at home when an emergency strikes so keep some additional supplies in your car and at work, considering what you would need for your immediate safety.


Flashlight

Radio – battery operated

Batteries

Whistle

Dust mask

Pocket knife

Emergency cash in small denominations and quarters for phone calls

Sturdy shoes, a change of clothes, and a warm hat

Local map

Water and food for at least 6 meals (canned sausages, granola bars, trail mix, etc.)

Permanent marker, paper and tape

Photos of family members and pets for re-identification purposes

List of emergency point-of -contact phone numbers

List of allergies to any drug (especially antibiotics) or food

Copy of health insurance and identification cards

Extra prescription eye glasses, hearing aid or other vital personal items

Prescription medications and first aid supplies

Toothbrush and toothpaste

Toilet paper and feminine hygiene products (if applicable)

Small package sanitary wipes

Extra keys to your house and vehicle

Travel games, deck of cards; book to read

Lightweight sleeping bag attached to bottom of backpack

One or two mylar solar blankets

Hand and toe warmers

Any special-needs items for children, seniors or people with disabilities. Don't forget to make a GO-Bag for your pets.

A good thing to have in the freezer are some extra granola bars that you can grab and go. Here's a recipe for a good, yet inexpensive one that we found in Mother Earth News:

Granola Bars



3 cups rolled oats (old-fashioned or instant)
1 cup shredded coconut (optional)
1/2 cup raw sunflower seeds
1/4 cup sesame seeds
1/2 cup chopped walnuts
4 tablespoons butter or margarine
1/4 cup dark brown sugar
1/2 cup honey
1 cup raisins
2 teaspoons vanilla extract

While your oven is preheating to 300°F, spread the oats, coconut, sunflower seeds, sesame seeds, and walnuts evenly on a 9" x 12" baking sheet. Bake these dry ingredients for 20 minutes, stirring them occasionally.

Meanwhile, heat the butter (or margarine), brown sugar and honey in a small saucepan, allowing the brew to simmer until the oat mixture is ready to come out of the oven. As soon as the oat mixture is out, add the raisins, stirring them into the other ingredients. Now remove the honey from the heat and stir in the vanilla extract, then pour the hot liquid over the oat mixture and stir until all the dry ingredients are coated.

Next, press the granola firmly into the bottom of a greased 8" x 8" pan and place it in the still-warm oven to bake (at the same 300°F as before) for 20 minutes. (An 8" x 8" pan makes bars about an inch thick; if you want thinner bars, use a slightly larger pan.) When you remove the granola from the oven, allow it to cool only slightly before cutting it into squares, but wait until it's completely cool before removing the bars from the pan.


Download this recipe.
---
Contribute to the Cook'n Club!
DVO would love to publish your article, prose, photography and art as well as your cooking, kitchen and nutrition tips, tricks and secrets. Visit the Newsletter Submission / Win Win for All section in our Forum for more information and details.
---
---