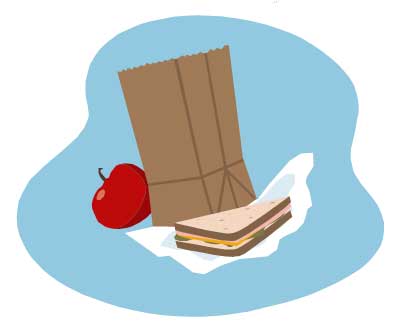 We were recently reading a column in Green Living about the safety of our children's lunch boxes. With the emphasis on health and nutrition that most families are aspiring to, it was interesting to us that the over-looked lunch box may contain a few problems.
Recent recalls on popular children's toys have given us a heightened awareness of what we need to look for. In a report by the Center for Environmental Health, common soft plastic lunchboxes often contain lead.
Lead can easily be transmitted to food which can result in reduced IQ, learning disabilities, ADD, etc. Since this report, manufacturers have reduced or eliminated the amount of lead in lunchboxes, which has resulted in a decrease in affected merchandise.
If you want to test your child's lunch container, you may purchase a hand-held lead testing kit that is available at most hardware stores. Even if the lunch box doesn't contain lead, DEHP--a phthalate that is a suspected carcinogen, is a common additive to the vinyl used in lunchboxes.
Nothing wrong with brown paper bags, except that each child contributes around 67 pounds of trash per school year. Times that number by your child's school enrollment!
Some suggested alternatives like canvas bags have the added benefit of being washable. Health food stores have a variety of lunch-boxes in a variety of eco-friendly materials. If you have any suggestions, please let us know.