This Black Bean Salad contains lots of good-for-you ingredients, including foods that are high in fiber and "good" fats. On a hot summer day, this will not only cool you off, it will fill you up!
Salad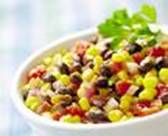 1 fresh diced avocado
2 lbs frozen corn
15 oz canned black beans, rinsed
1 cup fresh chopped scallions
1 ¼ cups diced red peppers
2 cups chopped tomatoes
2 jalapeno peppers
Salad Dressing
½ cup plus 2 Tbs. lime juice
½ cup chopped cilantro
2 Tbsp. olive oil
1 Tbsp. granulated sugar
1 tsp. minced garlic
1 tsp. dried oregano
2 tsp salt
¼ tsp black pepper
Preheat oven to 375 degrees

In a small bowl, combine all ingredients for salad dressing.

Add the diced avocado to the dressing, toss gently and set aside.

On a large sheet pan, roast the corn in the oven for 20-25 minutes or until slightly golden. Add the corn to a medium bowl and put in refrigerator.

In a large bowl, combine chilled corn, black beans, scallions, red peppers, tomatoes and jalapenos.

Toss with the Dressing.

Chill before serving.


Download this recipe.