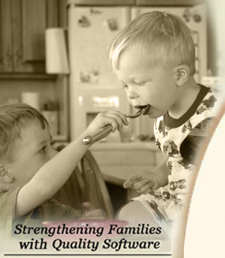 Cook'n Club Home
Subscribe Now!

Cook'n Forum
HomeCook'n Archive
Give-Aways

I have spent the last 2 hours reading your newsletter and wonderful recipes. I have already printed a whole bunch I want to try. I love them because they are using ingredients one has on hand. I love that and just wanted you to know how much we appreciate all your hard work in putting together this newsletter. Thank you very much.

Anna

Volume I - June 29, 2007
Patriotic Trifle to the Rescue!
by Alice Osborne
If you're wanting a WOW! Dessert for the family 4th of July picnic, try one of the easiest, prettiest, and yummiest desserts around — Traditional English Trifle. This recipe (and variations on it) come from Cheri of Fabulous Foods. We thank her and oh will your family thank her!
The Basic Recipe
Serves 10-12

1 cake mix
2 packets of custard or pudding mix
2 bags (1 lb. each) frozen fruit or equivalent sliced fresh fruit
1/3 C sugar (more or less to taste)
1 1/2 C heavy cream, whipped (or to save time, use whipped topping)
Fruit juice of choice
additional fresh fruit for garnish
Basic Instructions:
Prepare cake according to directions on package. Let cool completely.

Prepare custard or pudding mix according to package instructions. Let cool completely.

Mix fruit with a little juice (you want the fruit to be sitting, but not swimming). Some people like to really soak the cake, then add the fruit on top. We think this tends to make the cake too soggy, so we prefer less.

Whip the cream.

To assemble:


Trifle is very forgiving, it takes no effort to make it look great! If you don't have a trifle bowl, like the one in the photo, use any large glass bowl. It doesn't technically have to be glass, but it looks prettier if it is. You can also make individual servings by placing the layers in large wine goblets.

Cut the cakes into large chunks and cover the bottom of your dish with a layer of cake. Top with a layer of prepared fruit, then a layer of custard. Repeat the process until you are out of ingredients or the bowl is full. Top with whipped cream and garnish with fresh fruit. Chill until serving time.

To Serve:


Simply scoop out servings with a large spoon.

Trifle Tips & Variations

While a sponge cake is traditional, when a white cake is called for we often like using Angel Food Cake, as it holds up to the fruit without getting soggy. The variations below are just to get you going. We know you'll come up with some of your own as well.


Low or No Fat Trifle:
You can make a virtually fat-free trifle by using angel food cake, fat free pudding and low or no fat whipped topping

Strawberry Shortcake Trifle:
Yellow or Angel Food Cake, Custard and Strawberries

Black Forest Trifle:
Chocolate Cake, Cherry Pie Filling and Custard

Chocolate Raspberry Trifle:
Chocolate Cake, Raspberries and Custard

Tropical Fruit Trifle:
Angel Food Cake, Mixed Pineapple, Mangos, Papayas, etc. and either Vanilla or Lemon Pudding, Sprinkle top with Toasted Coconut

Apples & Cream Trifle:
Yellow or Spice Cake, Apple Pie Filling and Custard

Peaches & Cream Trifle:
Angel Food Cake, Sliced Peaches, Optional Alcohol: Peach Schnapps or Brandy

Red, White & Blueberry Trifle (my favorite):
Angel Food Cake, Mixed Strawberries, Raspberries and Blueberries, Custard

Raspberry Lemon Trifle:
Yellow or Lemon Cake, Lemon Pie Filling and Raspberries

Banana Cream Trifle:
White or Chocolate Cake, Sliced Bananas, Custard

Download this recipe.
---
Contribute to the Cook'n Club!
DVO would love to publish your article, prose, photography and art as well as your cooking, kitchen and nutrition tips, tricks and secrets. Visit the Newsletter Submission / Win Win for All section in our Forum for more information and details.
---
---