Stupid Chicken Dish
DVO Recipe Center
Serves: 12
The famous Sue Haddock is a friend of recent vintage. She is the mother of a large family which is the reason for the recipe. When you read the recipe, you'll get a flavor of her personality and see why she is such a neat person.

Her recipe is "The Stupid Chicken Dish" (no you don't have to find a stupid chicken to cook). It makes chicken and vegetables with gravy, only takes about 20 minutes to prepare, and cooks while you are at church. The name originated because when she was feeding 12 every Sunday, she would ask what they wanted for dinner. They would ALWAYS ASK FOR THIS! And, I would say.. "Not that stupid chicken dish again??!!" Now they all make it for their own families. This is a no brainer...even her daughter Heather made it for the entire family when she was about 6 years old.

2 whole chickens
12-20 potatoes
1 pound carrots
1 onion
salt, pepper, and seasoning
4 cans cream of chicken soup
4 cans cream of mushroom soup
2 cans of water
Put two whole FROZEN chickens in a roasting pan with a lid. Scrub (do not peel) potatoes and cut in two. Add them to the pan. Scrub carrots and add them to the pan. Cut up the onion and lay the rings around the top of everything. Season all that is in the pan with salt, pepper, and whatever else you like (she has a lot of garlic and onion blends of spices that she uses).

Then add four cans of cream of chicken soup and four cans of cream of mushroom soup (just slop on top). Add two soup cans of water. COVER THE ROASTING PAN TIGHTLY, PUT IN OVEN AT 400 DEGREES, and cook for 3-4 hours.

You do not have to remove the giblets or the papers that are in the innards of the chicken (just leave them in and enjoy later or let them flavor things).

This will feed a dozen or more people. You can use one chicken and feed at least six or eight. Cut everything in half including the soup but always use a whole onion--it is what makes life worth living.
Help on downloading recipes
Be sure to check the Cook'n Recipe Archive for more recipes.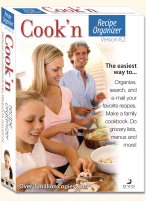 for Windows 9x/2000/ME/NT/XP/Vista

Not sure what to order?

Piles of recipe cards in your drawer?
Download Cook'n today and get organized!
Cook'n Cookbook Software Download - MSRP $99.95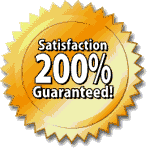 (Save 20%)
Download: $79.95

CD: $79.95



Buy the CD or download the full version of Cook'n right now! Includes over 300 of our best recipes.