Mitzi's Mom's Cookie
DVO Recipe Center
DVO Recipe Center
Serves: 12
2 c. sugar
1 c. shortening (half butter is nice)
2 eggs
2 Tb. vanilla
1 15 1/4-ounce can (about 1 3/4 cup) applesauce
3 1/2 c. flour
2 c. quick cook oats
2 tsp. soda
1 tsp. nutmeg
2 tsp. cinnamon
1/2 tsp. cardamom (optional, but marvelous)
1 tsp. salt
1 pkg. semi-sweet chocolate chips
1 c. nuts (optional)
Cream together sugars and shortening. Incorporate eggs, then vanilla and applesauce. Stir in chocolate chips. In separate bowl, combine other ingredients. Combine the wet and the dry. Drop by rounded tablespoons full onto greased cookie sheet. Bake at 400 degrees for 8 to 10 minutes, or until light golden brown. Cool slightly before removing.
Help on downloading recipes
Be sure to check the Cook'n Recipe Archive for more recipes.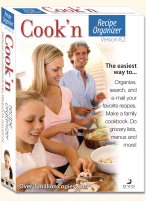 for Windows 9x/2000/ME/NT/XP/Vista

Not sure what to order?

Piles of recipe cards in your drawer?
Download Cook'n today and get organized!
Cook'n Cookbook Software Download - MSRP $99.95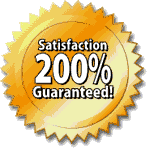 (Save 20%)
Download: $79.95

CD: $79.95



Buy the CD or download the full version of Cook'n right now! Includes over 300 of our best recipes.