Garden Tomato Salsa
DVO Recipe Center
Serves:8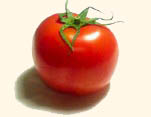 1/2 sweet onion, chopped
1/2 green bell pepper, coarsely chopped
1/4 cup fresh cilantro
5 slices pickled jalapeno peppers, or to taste
6 fresh tomatoes, quartered
2 teaspoons olive oil
2 teaspoons red wine vinegar
1/2 lime, juiced
1/8 teaspoon salt
Place onion, bell pepper, cilantro, and jalapeno peppers into a food processor. Pulse until finely chopped. Add tomatoes, and pulse just a few times until the tomatoes are coarsely chopped. Transfer to a bowl with a tight-fitting lid.
In a separate bowl, whisk together olive oil, red wine vinegar, lime juice, and salt.
Pour dressing over tomatoes, and stir well. Cover, and refrigerate for at least 1 hour.
Help on downloading recipes
Be sure to check the Cook'n Recipe Archive for more recipes.
---
---
Copyright © 2007 DVO Enterprises, Inc..