Chocolate Raspberry Roulade
DVO Recipe Center
Serves: 10-12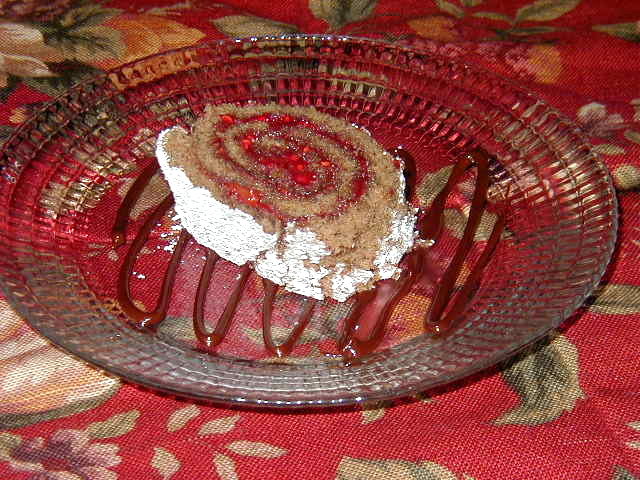 3/4 cup all-purpose flour
1/4 cup cocoa
1 teaspoon baking powder
1/4 teaspoon salt
3 eggs
1 cup granulated sugar
1/3 cup water
1 teaspoon vanilla
2/3 cup raspberry jam
Confectioners' sugar


Preheat oven to 375-degrees F. Line jelly roll pan (15-1/2x10-1/2x1-inch) aluminum foil leaving a 2-inch overhang at each short end; grease and flour the foil, tapping out any excess flour. If desired, you can just grease and flour the jellyroll pan really well, and skip the foil step. Stir the flour, cocoa, baking powder, and salt together; set aside.

In a mixer bowl, beat the eggs on medium speed for about 5 minutes or until very thick and lemon colored. Gradually add the sugar, while beating, until the mixture is light and fluffy. On low speed, blend in the water and vanilla. Slowly add the flour mixture, beating just until batter is smooth. Pour into prepared pan, spreading batter to corners.

Bake 12-15 minutes or until cake springs back when lightly touched in center. If overbaked, the cake will crack when rolled. Loosen cake from edges of pan; invert onto a clean cotton towel sprinkled with confectioners' sugar. Carefully remove foil; trim off stiff edges if necessary.

While hot, roll cake and towel from narrow end. Cool on a wire rack. Unroll cake; remove towel. Beat raspberry jam with a fork to soften; spread evenly over cake, stopping 1-inch from one of the long edges. Roll up, starting with the long, raspberry filled edge; sprinkle with confectioners' sugar through a sieve, or drizzle with Chocolate Glaze. Slice with a se knife (on the diagonal, if desired). To serve drizzle or pool chocolate glaze onto a dessert plate, set on a roulade slice, and garnish with fresh raspberries and mint leaves.

Chocolate Glaze:
Melt 2 ounces unsweetened chocolate and 3 tablespoons butter or margarine. Stir in 1cup confectioners' sugar and 3/4 teaspoons vanilla. Mix in about 2 tablespoons hot water, 1 teaspoon at a time, until glaze reaches desired consistency.

Variations:
-Whipped Cream Filling: Fill the cake with 1 cup whipping cream (sweetened and whipped). Cover and refrigerate until serving time. You can add any type of fresh berry sprinkled over the whipped cream for a luscious, thick roulade.

-Ice Cream Filling: Soften 2 pints caramel ice cream in the refrigerator for 15 minutes. Transfer to a large bowl and mix with a spoon until the soft and firm portions are blended. Spread the softened ice cream over the cake evenly, stopping 1 inch from the farthest long edge. Wrap securely in aluminum foil and freeze for at least 2 hours and up to 1 day. Before serving, let cake sit at room temperature for 5-10 minutes.


Help on downloading recipes
Be sure to check the Cook'n Recipe Archive for more recipes.