Chili Cincinnati
DVO Recipe Center
Serves: 6
2 Tb. chili powder
1 tsp. ground cinnamon
1 tsp. garlic powder
1/2 tsp. ground allspice
2 tsp. sugar
1/2 tsp. salt
Mix spices together and place on a square of foil. Fold up and place in a sealed bag. Place in a gift bag along with an 8-oz package of spaghetti noodles and a can of kidney beans. Attach these instructions: For a hearty supper, brown 1 lb. Ground beef with 1 c. chopped onion and drain. Stir in the spice blend, a 15-oz. can tomato sauce and 2 c. water. Bring to a boil. Reduce heat and simmer for 45 minutes, uncovered, stirring occasionally. Serve chili over cooked spaghetti. Garnish with kidney beans, shredded cheese, and chopped onions, as desired."
Help on downloading recipes
Be sure to check the Cook'n Recipe Archive for more recipes.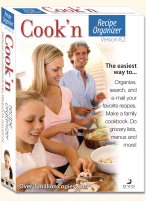 for Windows 9x/2000/ME/NT/XP/Vista

Not sure what to order?

Piles of recipe cards in your drawer?
Download Cook'n today and get organized!
Cook'n Cookbook Software Download - MSRP $99.95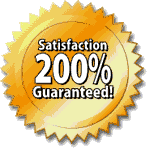 (Save 20%)
Download: $79.95

CD: $79.95



Buy the CD or download the full version of Cook'n right now! Includes over 300 of our best recipes.