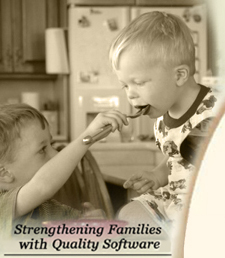 TOP SELLERS
I love this Osmond CD! When I first viewed the photo of mother Osmond baking bread for her family, I started to cry. I guess growing up as an Osmond fan had something to do with it. But, as the mother of 10 kids, I really value Olive Osmond's best-loved recipes and I just treasure the family photos and this loving, nurturing mother's heartfelt quotes. I'm so glad I can get it on my Cook'n now! Thank you!

Jan Young

• Current Issue
• Newsletter Archive
• Contact Info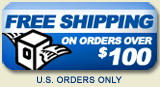 Osmond Family Recipes, Inspirational Quotes, and Precious Family Photos!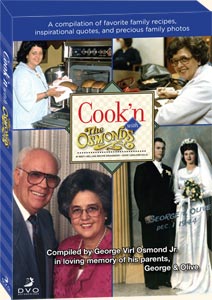 for Windows 95/98/2000/ME/XP/NT/Vista/Vista
---
Recipes from the Cook'n with the Osmonds CD


---
Over 600 Osmond Family recipes, Hundreds of treasured family photos (Sample #1), Inspirational quotes collected by Olive Osmond (Sample #2, Sample #3), and Bonus Music CD by Jared Osmond (a $25 value!)
Appetizers

Asparagus Rolls
Tiny Cream Puffs
Tiny Cream Puffs-Curried Chicken Filling
Shrimply Delicious Celery Sticks
Guacamole
Asparagus Dip
Cheese-Stuffed Pepper Wedges
Chicken Strips
Dried Beef Dip
Filled Cheese Turnovers
Lemon Dip
Soup Dip
Asparagus Fold-Ups
Fruit Dip
Ham And Cheese Balls
Imitation Guacamole
Stuffed Jumbo Shells
Triple Cheese Mold

Beans-Lentils

Variety Bean Bake
Hawaiian Baked Beans
Boston Baked Beans
Quick Spicy Baked Beans
Mexican Skillet Beans
Baked Lentils
Beans And Macaroni
Chili
Lima Beans With Tomato Sauce
Maple Baked Beans
Picnic Beans
Spam And Bean Bake
Baked Beans
Beans With Cabbage And Macaroni Shells
Chicken Garbanzo Chili
Chili For A Crowd
Pinto Bean Chili
Pinto Beans At Their Best

Beverages

Hot Cran-Orange Beverage
Grape Refresher
Lime Gelatin Punch
Orange-Pineapple-Banana Slush
Strawberry Punch
French Chocolate
Citrus Punch
Mock Orange Julius
Orange Smoothie
Purple Cows
Rhubarb Lemonade
Strawberry-Cranberry Punch
Fruit 'N Yogurt Breakfast Drink
Mexican Chocolate
Orange Sparkler
Party Drink
Raspberry Sparkler
Tropical Slush
Apricot Banana Shake
Apricot Ice Cream Blend
Cherry Surprise
Chocolate Malted Milk
Creamy Apricot-Lemon Punch
Fruit Freeze
Grenadine Slush
Lemon Grape Beverage
Orange Yogurt Shake
Prune Yogurt Beverage
Strawberry Cream
Strawberry Malt
Homemade Orange Julius
Gelatin Punch
Cherry Punch
Fruit Slush
Apple-Cranberry Cider
Fruit Punch
Frappé
Hot Christmas Punch

Quick Breads

Oatmeal Apple Raisin Muffins
Maple Bran Muffins
Corn Bread
Buttermilk Biscuits
Blueberry Muffins
Prune Bread
Bran Muffins
Chocolate Waffles
Oat Bran Muffins
Popovers
Waffles
Whole Wheat Muffins #1
Applesauce Muffins
Baking Powder Biscuits
Cranberry Muffins
Nutty Oatmeal Bread
Orange Nut Bread
Cheese Biscuits
Crunchy Cereal Bread
Extra Special Corn Muffins
Hominy Corn Bread
Mincemeat Nut Bread
Pumpkin Bread
Taco Shells

Yeast Breads

Apricot Ring
Whole Wheat Raisin Bread
Oatmeal Bread
Whole Wheat Bread
Rye Bread
French Onion Bread
Carrot-Apricot Bread
Cinnamon Rolls
English Muffins
Wheat Bread Sticks
White Bread #1
Whole Wheat Potato Bread
Kugelhopf
Onion Rolls
Parker House Rolls
Seven Grain Bread
Sweet Roll Dough
White Bread #2

Cakes

Angel Food Cake
Coconut And Banana Cake
Any Old Fruit Cake
Nutty Breakfast Cake
Cranberry Cake
Rhubarb Cake
Applesauce Cake
Chocolate Roll
Date Loaf Cake
Plum Cake
Prize Orange Cake
Spice Cake
Pineapple Carrot Cake
Raised Doughnuts

Candies

Nougats
Caramels
Divinity
Microwave Fudge
Pull Candy
Chocolate Rice Crunch
Crispy Popcorn
Fudge
Marshmallow Nut Fudge
Peanut Brittle
Pecan Candy
Penuche
Chocolate Divinity
English Toffee
Fondant
Old-Fashioned Molasses Taffy
Strawberry Divinity
White Fudge
Marzipan Fruits

Canning

Grandma Osmond's Frozen Raspberry Jam
Beet Pickles
Pomegranate Jelly
Dill Pickles #1
Chili Sauce
Corn Relish
Apricot Conserve
Bread And Butter Pickles
Frozen Peach Jam
Pear Preserves
Pickled Onions
Tomato Relish
Bottled Peaches
Dill Pickles #2
Mustard Pickles
Peach Butter
Pear Conserve
Pineapple Rhubarb Jam

Casseroles

Mexican Tortilla Casserole
Salmon And Macaroni Casserole
Lamb And Bean Casserole
Cheese And Noodle Casserole
Chicken Casserole
Tuna-Vegetable Casserole
Beef And Vegetable Supper
Cashew Nut And Tuna Casserole
Macaroni-Spam Casserole
Quick Fix Casserole
Quick Turkey Casserole
Vegetable-Cheese Casserole
Chipped Beef Casserole
Corned Beef Casserole
Mashed Potato Casserole
Shrimp Casserole
Turkey Casserole
Zucchini-Cheese Casserole

Cheesecakes

Light Lemon Cheesecake
Pineapple Cheesecake
Light And Fluffy Cheesecake
Low Fat Strawberry Cheesecake
Plain Cheesecake
Miniature Cheesecakes
Apricot Cheesecake
Chocolate Mint Cheesecake
Cranberry Cheesecake
Lemon Meringue Cheesecake
Rhubarb Cheesecake
Sour Cream Cheesecake
Another Good Cheesecake with Sour Cream
Cheesecake
Cinnamon Cheesecake

Poultry

Eggnog Cheesecake
Fresh Peach Cheesecake
Individual Mock Cheesecakes


Cookies

Basic Cookie Press Dough
Family Night Cookies
Maple Crisp Cookies
Date-Nut Refrigerator Cookies
Brownies
Peanut-Chocolate Bars
Applesauce Cookies
Chocolate Crunch Cookies
Date Oatmeal Cookies
Filled Date Cookies
Molasses Whole Wheat Cookies
Sugar Cookies
Apple Bars
Coconut Brownies
Lemon Squares
Mincemeat Oatmeal Cookies
Snickerdoodles
Special Oatmeal Cookies
Lemon Blueberry Bars
Chocolate Haystacks

Eggs-Cheese

Eggs With Blue Cheese
Eggs Over Muffins
Eggs Au Gratin
Quiche Lorraine
Eggs Oriental
Creamed Eggs On Shredded Wheat
Baked Eggs With Tomatoes
Curried Eggs
Deviled Ham And Eggs
Main Dish Eggs
Vegetable Omelet
Welsh Rabbit
Baked Eggs In Cheese Sauce
Creamy Eggs
Egg And Potato Breakfast Treat
Omelet With Fish Sticks
Potato Omelet
Scrambled Eggs With Tomatoes
Asparagus Omelet
Plain Baked Eggs

Fish

Baked Salmon
Stir Fried Shrimp And Vegetables
Tuna Spaghetti Supper
Halibut Steak With Tomato Sauce
Crispy White Fish
Salmon Hash
Baked Fish Fillets
Creamed Tuna Fish
Fish Cakes
Fish Italian
Planked Halibut
Tuna Fish Cakes
Baked Fish With Bacon And Tomato Soup
Baked Fish with Cheese
Fried Fillets
Salmon Loaf
Salmon Patties
Tuna And Rice Curry

Frostings-Fillings

Royal Frosting
Brown Sugar Frosting
Jelly Frosting
Seven Minute Frosting
Seafoam Frosting
Boiled Pineapple Topping
Coconut Pecan Frosting
Date Filling #1
Elegant Chocolate Frosting
Fruit-Flavored Frosting
Magic Chocolate Frosting
Date Filling #2
Empanada Meat Filling
Empanada Vegetable Filling
Lemon Filling
Onion Filling
Raisin Filling

Frozen Desserts

Quick Orange Sherbet
Raspberry Sherbet
Vanilla Ice Cream #1
Egg Nog Ice Cream
Pineapple Ice Cream
Strawberry Ice Cream
Banana Ice cream
Blueberry Sherbet
Fresh Peach Ice Cream
Frozen Pumpkin Squares
Lemon Velvet Ice Cream
Toll House Quick Ice Cream
Chocolate Mint Ice Cream
Fresh Berry Sherbet
Fresh Pineapple Sherbet
Maple Walnut Ice Cream
Traditional Vanilla Ice Cream
Cone Mix

Fruit Desserts

Apple Cobbler
Cherry Cobbler
Pineapple Meringues
Apricot Delight
Strawberry Delight
Baked Apples
Apple Turnovers
Blueberry Buckle
Boysenberry Pandowdy
Fruit And Dumplings
Peach Crisp
Strawberry Fruit Fantasy
Apple Dumplings
Applesauce Dessert
Butterscotch Baked Apples
Cantaloupe Fruit Cups
Cherry And Apple Cobbler
Trifle
Boysenberry Crisp
Peach And Cherry Cobbler

Gelatin Desserts

Cranberry Whip
Lime Fluff
Dreamy Gelatin Dessert
Cherry Fluff
Raspberry Cloud
Pineapple Snow
Christmas Mold
Fresh Raspberry Mix
Fruit Gelatin With Bananas
Gelatin With Applesauce
Orange Elegant
Raspberry Bavarian
Apricot-Orange-Pineapple Dessert
Cranberry Gelatin Dessert
Lemon Mousse
Peach Mold
Strawberry Mold
Vanilla Bavarian Cream
Cranberry Raspberry Gelatin Dessert
Gelatin Cubes With Ice Cream
Mandarin Orange Mold
Rhubarb Pineapple Gelatin Dessert

Meats

Beef Stroganoff
Barbequed Beef Ribs
Meat Loaf #1
Meat Loaf #2
Lamb In Potato Nests
Corn Dogs
Beef Kabobs
Chili Steak
Grilled Steak
Polynesian Hamburgers
Sweet And Sour Meat Balls
Sweet And Sour Spareribs
Hawaiian Spareribs
Short Ribs 'N Noodles
Stuffed Meat Loaf
Swedish Meat Balls
Swiss Steak
Veal Rolls
Meat Loaf with Salsa
Oriental Hamburgers

Miscellaneous

_Cornstarch Clay
_How To Preserve A Husband
_Home Made Soap
_Wave Set
_Copper And Brass Polish
_Finger Paint
_Hand Crème
_Play Dough
_Crystal Garden

Pasta-Rice

Macaroni Loaf
Macaroni And Beef
Spanish Rice #1
Lasagna #1
Spanish Noodles
Perfect Macaroni And Cheese
Lasagna #2
Macaroni With Tomatoes And Frankfurters
Macaroni-Cheese Ring
Pasta And Rice With Peas
Saffron Rice
Spanish Rice #2
Curried Rice With Peas
Favorite Spaghetti
Macaroni With Corned Beef
Noodles With Creamy Sauce
Quick Rice Dish
Spaghetti And Tomatoes
Homemade Noodles

Pies-Pastries

Old-Fashioned Apple Pie
Special Pie Crust
Orange Pumpkin Pie
Upside-Down Apple Pecan Pie
Apple Walnut Pie
Banana Mallow Pie
Banana Cream Pie
Best Pie Crust
Fluffy Lime Pie
Lemon Meringue Pie
Special Lemon Pie
Special Meringue
Famous Pumpkin Pie
Grated Apple Pie
Meat Pie
Meringue Shell For Pies
Pumpkin Chiffon Pie
Strawberry Pineapple Pie
Chocolate Mint Pie
Lemon-Berry Tart


Poultry

Golden Flake Chicken
Fried And Cream Chicken
Chicken A La King
Chicken And Rice
Chicken With Pumpkin Sauce
Chicken Hawaiian
Baked Chicken And Dressing
Cashew Chicken
Chicken And Vegetables
Chicken With Tomato Sauce
Fried Chicken
Turkey Loaf
Barbecued Chicken
Chicken Breasts In Cream Sauce
Chicken Enchiladas
Chicken Or Turkey Roll
Ginger Lemon Chicken
Oriental Chicken

Puddings

Steamed Carrot Pudding
Baked Rice Pudding #1
Steamed Pumpkin Pudding
Cranberry Pudding
Tapioca-Pineapple Pudding
Baked Rice Pudding #2
Date Pudding
Lemon Fluff
Old Fashioned Cornstarch Pudding
Plain Steamed Pudding
Tapioca Pudding
Apricot Bavarian Cream
Caramel Custard Pudding
Custard Pudding
Lemon Sponge Pudding
Steamed Ginger Pudding

Salads

Cranberry-Orange Molded Salad
Pear Salad Mold
Cranberry Blizzard
Frozen Dessert Salad
Orange Salad
Pineapple Mold
Artistic Salad
Chicken Avacado Salad
Easy Tomato And Tuna Salad
Hot Rice And Vegetable Salad
Spinach Salad
Three Bean Salad
Apricot Orange Ring Mold
Cranberry-Orange-Cherry Salad
Lime Ring Salad
Marie's Raspberry Salad
Orange-Pineapple Gelatin Salad
Virl's Lime Salad
Rice Salad

Salad Dressing

Avocado Dressing
Blue Cheese Dressing
Raspberry Vinaigrette
Honey Lime Dressing
Old-Fashioned Salad Dressing
Chili Sauce Dressing
Cole Slaw Dressing
Creamy French Dressing
Fruit Dressing
Russian Dressing
Tomato Soup Dressing
Tomato-Cheese Dressing
Chive Mayonnaise
Cooked Salad Dressing
French Salad Dressing
Mayonnaise
Special Dressing For Vegetables
Spicy Salad Dressing
Buttermilk Salad Dressing
Sassy Salad Dressing
Tomato Onion Salad Dressing
Yogurt Poppy Seed Dressing
Salad Dressing

Sandwiches-Pizzas

Cheese And Vegetable Pizza
Barbecued Beef Sandwiches
Hoagie Sandwiches
Burgers In Crusts
Pizza Dough
Ham And Egg Sandwiches
Barbecued Cheese Sandwiches
Beef On Rye Sandwiches
Denver Sandwich
Hamburgers Hawaiian
Hot Creamed Dried Beef Sandwiches
Hot Reuben Sandwiches
Empanadas With Cornmeal pastry

Sauces-Gravies-Marinades

Sweet Spicy Sauce
Basic White Sauce
Barbecue Sauce
Spinach-Onion Sauce
Lemon-Almond Sauce
Quick Orange Sauce
Caramel Sauce
Cranberry Sauce
Imitation Sour Cream
Marshmallow Sauce
Special Orange Sauce
Vanilla Sauce
Homemade Sour Cream
Quick Sour Cream
Sweetened Condensed Milk
Coating For Baked Chicken.

Soufflés

Lemon Soufflé
Peach Soufflé
Spinach Soufflé
Corn And Rice Soufflé
Apricot Soufflé
Date Soufflé
Carrot Soufflé
Cherry Soufflé
Orange Soufflé
Plain Soufflé
Rhubarb Soufflé
Salmon Soufflé
Cheese Soufflé
Chocolate Soufflé
Easy Chicken Soufflé
Orange Drink Soufflé
Swiss Cheese Soufflé
Zucchini And Corn Soufflé

Soups-Stews

Hamburger-Vegetable Soup
Meat Dumpling Soup
Potato Soup #1
Quick Cauliflower Soup
Tomato Soup
Beef Stew
Cheese Soup
Creamy Vegetable Soup
Lentil Soup
Potato Soup #2
Quick Spinach Soup
Split Pea Soup
Cold Tomato Soup
Onion Soup Mix
Spinach And White Bean Soup
Tomato Chicken Soup
Tomato Spinach Soup
Good Old Chicken Soup

Vegetables

Baked Carrot Ring
Broccoli And Cheese
Corn Custard
Crisp Potato Pancakes
Scalloped Vegetables
Green Beans Deluxe
Cheesy Corn
Creamed Onions
French Fried Onion Rings
Potatoes Au Gratin Deluxe
Stuffed Zucchini
Swiss Baked Potatoes
Cabbage Rolls
Corn Fritters
Creamed Potatoes
Potato Side Dish
Skillet Scalloped Potatoes
Stuffed Baked Tomatoes
Corn Bake
Stuffed Cabbage Rolls
Barley Side Dish
Corn And Celery Dressing

Food for Thought with Osmond Family Photos

01 - Introduction
02 - How the Cookbook Began
03 - How the Brothers Started Singing
04 - How the Quotes Began
05 - Mother Osmonds Cards
06 - Comes the Dawn
07 - Collecting Recipes
08 - Never Borrow Sorrow from Tomorrow
09 - Food for the Mind
10 - The Blue Vase Origin
11 - Age
12 - Meeting Mother Osmond
13 - Don't be a Knocker
14 - Still Collecting Recipes
15 - If We Treat a Person as He Ought to Be
16 - Food & Family
17 - Blue Vase Quote
18 - The Importance of Family
19 - A Smile
20 - Sweet Potatoes
21 - Home is Those Who Are There
22 - Provident Living
23 - Choosing Our Companion
24 - Teaching Our Children
25 - Stop Supposin'
26 - What are we Waiting For?
27 - Regret
28 - The World Is Mine
29 - Almonds
30 - Mother Osmonds Mother








Cook'n with the Osmonds
plus Bonus Music CD
Don't forget to order a 2nd one as a gift!

Click here to learn more about the features of the Cook'n engine.

Click here to find out what people are saying about Cook'n.